Video
Learn the specifics of how to send messages with a video on WhatsApp.
Send messages with a video to your customers. You can also send messages in the form of a video and captions together. Video captions can be up to 4096 characters long.
The following video types are supported:
Only H.264 video codec and AAC audio codec are supported. Only videos with a single audio stream are supported.
Video sizes can be up to 16MB.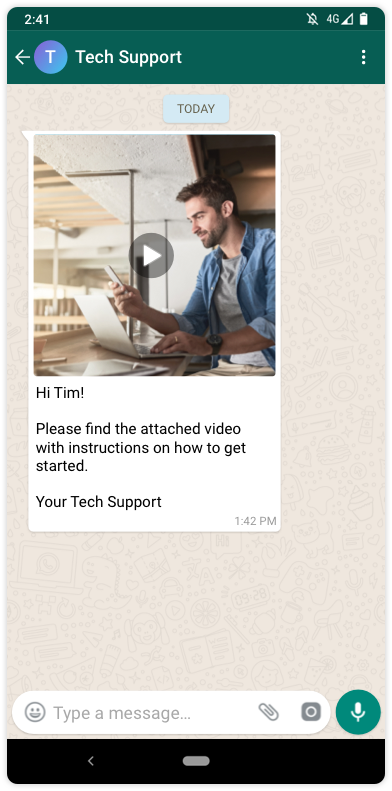 How to send a video
curl –XPOST https

:

//api.tyntec.com/conversations/v3/messages\


  

-

H 

'Content-Type: application/json'

 \
  

-

H 

'apikey: <API KEY>'

 \
  

-

d 

'{
{
    "from" : "{{whatsAppBusinessNumber}}",
    "to" : "{{receiverPhoneNumber}}",
    "channel" : "whatsapp",
    "content" : {
        "contentType" : "video",
        "video" : {
            "url": "http://techslides.com/demos/sample-videos/small.mp4",
            "caption" : "An optional caption"
        }
    }
}