List Messages
List messages provide a more straightforward and consistent format than text-based lists for people to find and select what they want from a business.
Lists messages do not require a template or pre-approval.
Benefits and use cases include
Provide up to 10 options

List messages can be populated dynamically based on a customer's responses and can be used for personalized bot use cases, such as a take-out menu, a selection of nearby stores or locations, available reservation times, seating choices, etc.

Dedicated description lines for each option are available to provide additional context.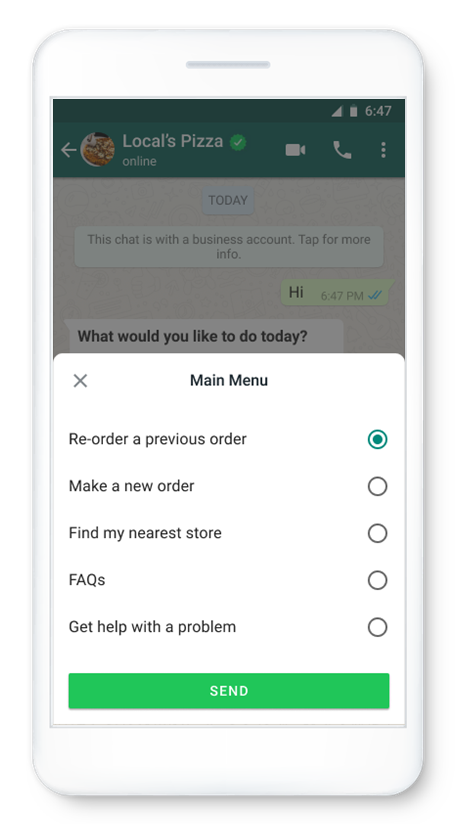 Each list message consists of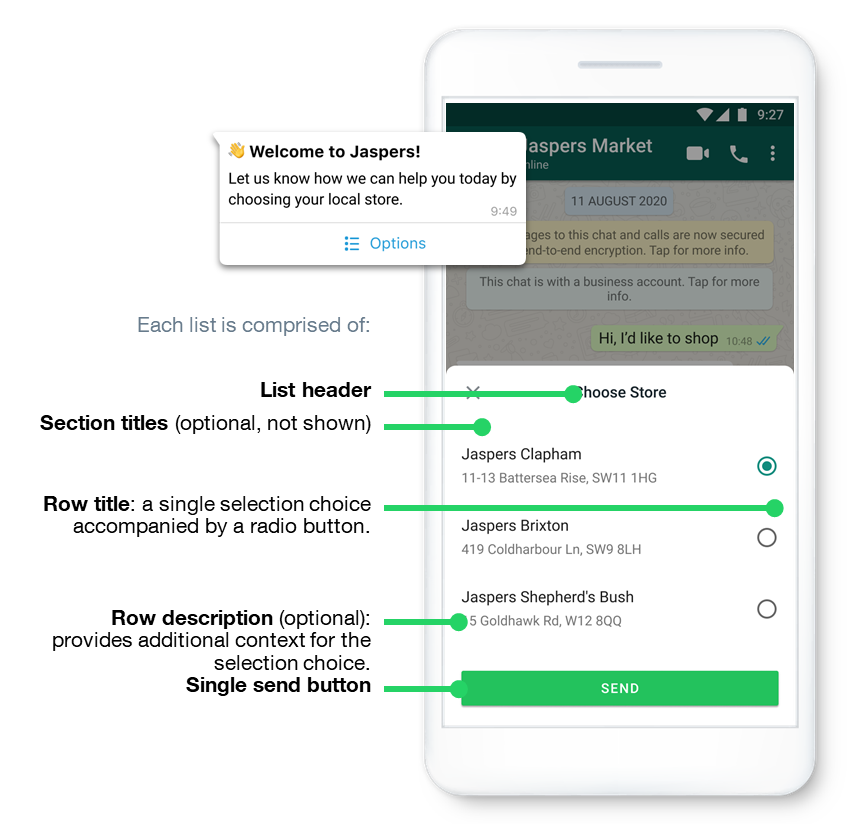 Implementation considerations
List messages are most effective for menus with up to 10 options or where additional context is required to make the decision.

List messages can provide an initial response to a customer message before transitioning to a human agent. They can be 'chained' in a flow with another list or Reply buttons to complete an action.

Payload and title on the list rows are mandatory.

When more than 1 section is used, the section title is mandatory.

Do NOT list messages for:




A list of products: List messages cannot contain images.

Messages with fewer than four options that require no context (e.g., Yes/No). Use Reply buttons or interactive notifications for these cases.
API Request for List Messages
curl –XPOST https

:

//api.tyntec.com/conversations/v3/messages\


  

-

H 

'Content-Type: application/json'

 \
  

-

H 

'apikey: <API KEY>'

 \
  

-

d 

'{
{
    "from" : "{{whatsAppBusinessNumber}}",
    "to" : "{{receiverPhoneNumber}}",
    "channel" : "whatsapp",
    "content": {
    "contentType": "interactive",
    "interactive": {
      "subType": "list",
      "components": {
        "header": {
          "type": "text",
          "text": "Choose your menu"
        },
        "body": {
          "type": "text",
          "text": "Hi Sarah, select your menu from the bottom list. Dressings and toppings are selected later on"
        },
        "footer" : {
            "type": "text",
            "text": "Your tyntec food team"
        },
        "list": {
          "title": "Your menu",
          "sections": [
            {
              "title": "Vegan",
              "rows": [
                {
                  "payload": "green-dream-34987-234897234-234",
                  "title": "Green dream",
                  "description": "A bowl full of tasty leaves, soybeans and cucumber"
                },
                 {
                  "payload": "rainbow-meets-rice-34987-234897234-234",
                  "title": "Rainbow meets rice",
                  "description": "A colorful selection of vegetables on a cozy bed of basmati rice"
                }
              ]
            },          
            {
              "title": "Vegetarian",
              "rows": [
                {
                  "payload": "italo-classic-34987-234897234-234",
                  "title": "Italo Classic",
                  "description": "Slices of tomatoes, with plucked pieces of mozzarella and basil leaves"
                },
                 {
                  "payload": "egg-and-peas-34987-234897234-234",
                  "title": "Egg & Peas",
                  "description": "Tasty slices of eggs, on a whole wheat pasta salad with peas"
                }
              ]
            }
          ]
        }
      }
    }
  }
}
The responses when the user selects a list item
{


	

"messageId"

:

 

"ABEGSRcolTdUAgo-sAv23434Wdf9fsdO32"

,


	

"channel"

:

 

"whatsapp"

,


	

"from"

:

 

"491728953754"

,


	

"to"

:

 

"4923147790813"

,


	

"content"

:

 

null

,


	

"event"

:

 

"MoMessage::Postback"

,


	

"whatsapp"

:

 

{


        

"description"

:

 

"Slices of tomatoes, with plucked pieces of mozzarella and basil leaves"

,


        

"title"

:

 

"Italo Classic"

,


    	

"senderName"

:

 

"Peter @ tyntec"


	

}

,


    

"context"

:

 

{


        

"messageId"

:

 

"7a9658bc-20ce-4877-8409-81432443a7fc"


	

}

,


	

"postback"

:

 

{


    	

"data"

:

 

"9080923445nlkjß0_gß0923845083245dfg"


	

}

,


	

"timestamp"

:

 

"2021-07-13T09:22:32Z"




}