Image
Learn the specifics of how to send messages with an image on WhatsApp.
Sending images alongside WhatsApp messages strengthens your brand and makes your offers catchier. You can also send messages in the form of an image and caption together. Image captions can be up to 4096 characters long.
The following image types are supported:
Image sizes can be up to 5MB.
ℹ️ QR codes can be shared as an image.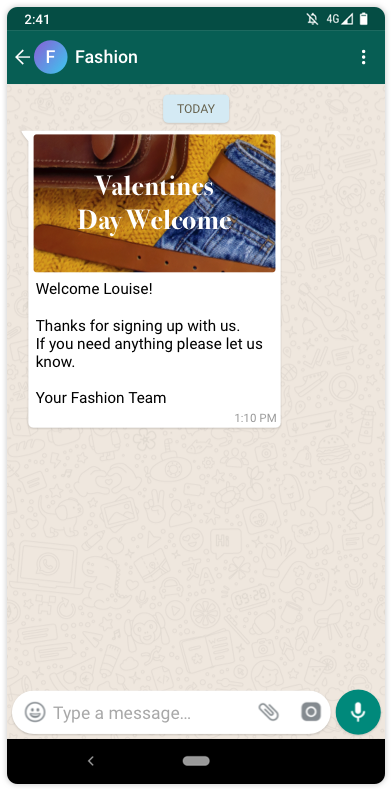 How to send an image
curl –XPOST https

:

//api.tyntec.com/conversations/v3/messages\


  

-

H 

'Content-Type: application/json'

 \
  

-

H 

'apikey: <API KEY>'

 \
  

-

d 

'{
{
    "from" : "{{whatsAppBusinessNumber}}",
    "to" : "{{receiverPhoneNumber}}",
    "channel" : "whatsapp",
    "content" : {
        "contentType" : "image",
        "image" : {
            "url": "https://upload.wikimedia.org/wikipedia/commons/6/6c/Sample_EPC_QR_code.png",
            "caption" : "An optional caption"
        }
    }
}