Donation and volunteer rates have suffered hugely due to COVID-19 — here's what nonprofits can take away from commerce's use of WhatsApp to help reach out and reconnect with donors.
The impact of COVID-19 on nonprofits has been significant during the pandemic, and is expected to continue even as lockdowns ease. For instance, over 96% report a negative impact with nearly 70% nonprofits stating contributions have taken a hit, according to the Charities Aid Foundation of America. Worse still, over 40% expect to see a drop in contributions of at least 21% over the next year.
It means charitable organizations must search for new ways to connect with potential donors while nurturing existing donor relationships more effectively. Enter WhatsApp Business API, the business/organization variant of the popular private messaging platform available to both nonprofits and for-profits, which is designed to enhance interactions between brands and customers/donors.
From order details and delivery notifications through to customer support, the messaging platform is helping for-profit brands ace user engagement and support via conversational commerce coupled with deeper, richer personalization.
By adopting a similar messaging strategy — but tailored to donor and contributor relationships — nonprofits can now reap the same rewards that so many for-profits are benefiting from already.
How to leverage the WhatsApp Business API in nine key steps
1. Enjoy world-beating reach
With over two billion users in 180 countries, WhatsApp is the most popular messaging platform in the world with especially high penetration rates across the EU and in many populous countries including Brazil and India. It's a platform that people from across all demographic groups already rely on to communicate with family, friends and colleagues on a daily basis, making it ideal for both nonprofit and for-profit brands to acquire and engage with potential customers, donors or volunteers.
Why WhatsApp?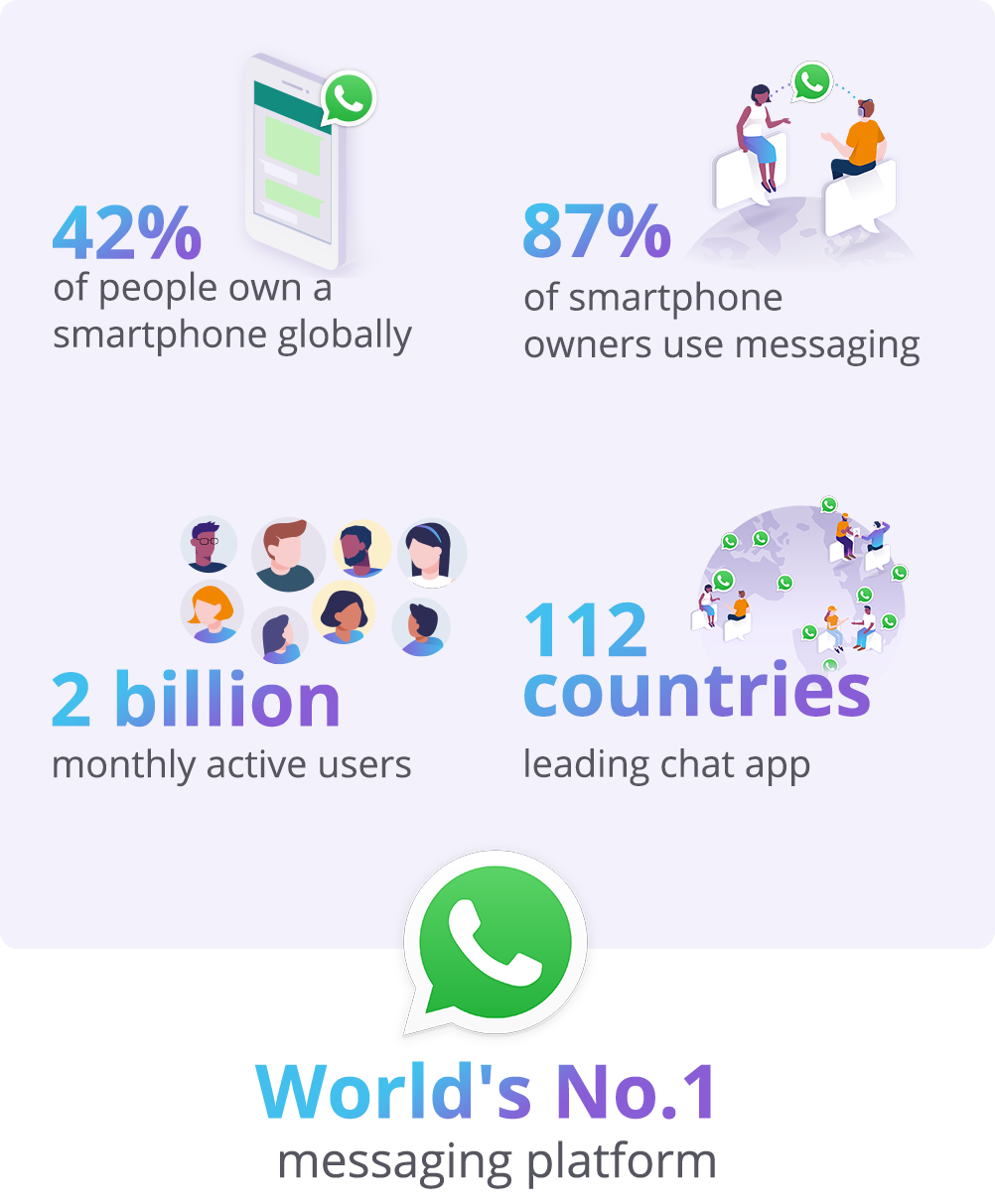 2. Cover the entire donor journey
Brands are using WhatsApp to support customers at every stage of their journey through the sales 'funnel,' and forward-thinking nonprofits are doing the same. For instance, tyntec client, The Denan Project (TDP), is successfully leveraging the messaging platform to build all-new digital journeys that turn one-time donors into long-term supporters.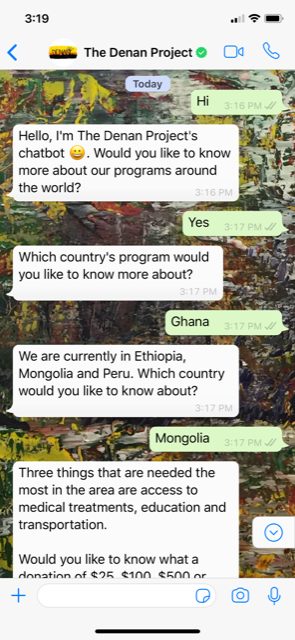 3. Build brand awareness digitally
Like its for-profit peers, TDP has been spreading awareness of its brand in the digital space via Facebook and Instagram with a Click-to-WhatsApp ads that launches an instant conversation in-app. This has seen the nonprofit's reach grow to over 80,000 more people compared to its traditional marketing channels.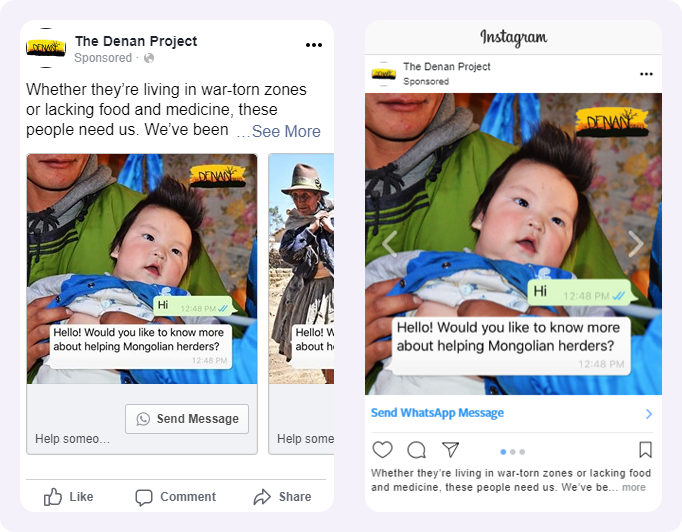 4. Promote the channel easily
As well as Click-to-WhatsApp ads, brands are deploying a host of other powerful marketing tools to promote the channel from scannable QR codes that launch chats through to conversation starter buttons placed on key webpages. The WhatsApp Business solution gives nonprofits access to the same tools, enabling them to quickly add digital interactions via a platform users know, trust and are familiar with.
5. Be secure end-to-end
Whether it's a donor or a customer, everyone wants reassurance that their chats and personal information are secure. It's why WhatsApp offers complete end-to-end encryption on any and all chats, as well as provide digital verification badges for accredited organizations to help give consumers — and donors — genuine peace of mind.
6. Share the message, share the wealth
Nonprofits can take advantage of WhatsApp's powerful sharing features, encouraging existing donors to send invitations to their social circle to join the organization via its WhatsApp number. Using this approach has seen TDP's number of first-time donors double in just three months, plus boost repeat donations with 40% higher total donation rates across a three-month period.
7. Automate with AI
Delays responding to potential customer queries harms e-commerce, and it's the same story for nonprofits: That delay might threaten a spur of the moment decision to donate. Whether it's a simple FAQ chatbot or an advanced intelligent assistant powered by conversational AI (artificial intelligence), bots can be incorporated right into WhatsApp to answer typical donor queries in real-time 24/7 with the option to hand over to a live volunteer if they are available.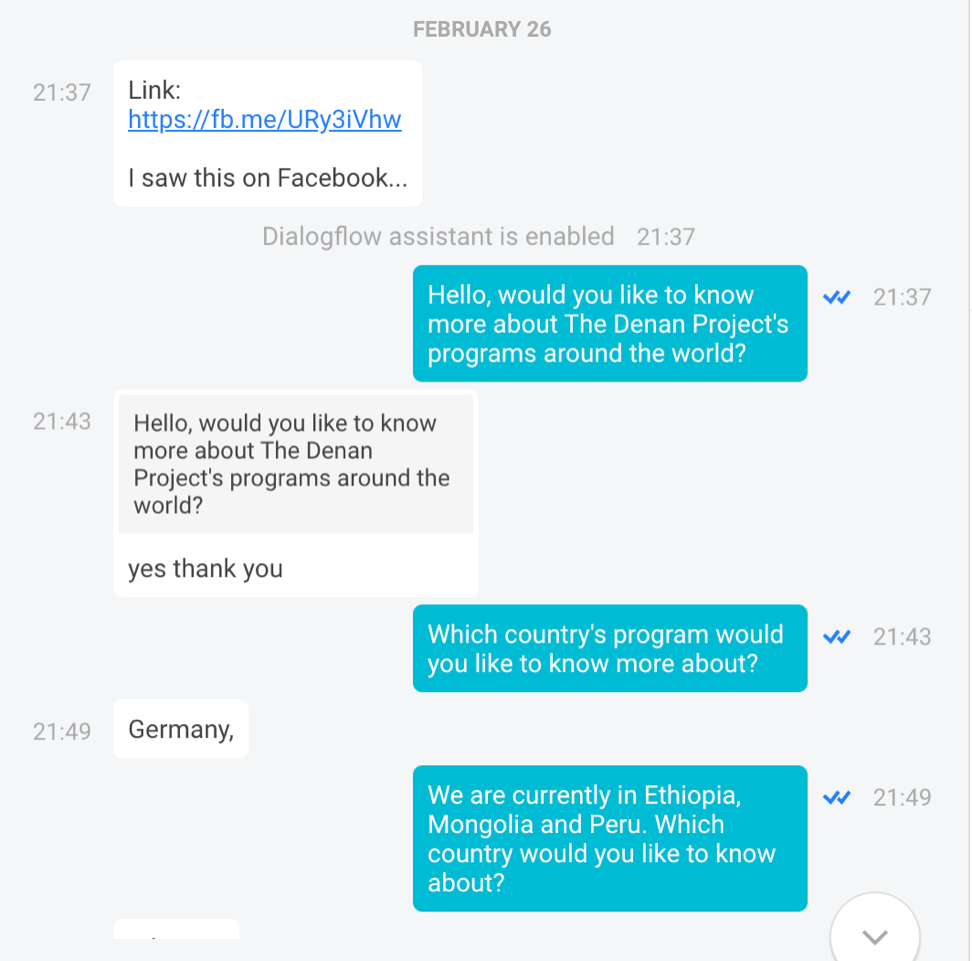 8. Partner up to lighten up
Brands and organizations are often too busy or don't have the technical know-how to design and roll out the WhatsApp Business API; this is especially true of nonprofits (see below). Official providers such as tyntec are a popular route to rollout success, taking the organization through the entire process from signing up to the platform to implementing bot technology, all backed up by a GDPR-compliant service that protects clients from reputational risk.
9. Scale without the fail
The WhatsApp Business solution enables organizations to learn which digital conversations are most effective for driving up conversion and donation rates. It also offers the ability to test and scale up interactions, all without the fear of burning through resources and budgets on new hires or ever-expanding tech infrastructures (see point 7).
How official WhatsApp providers enable digital transformation in the nonprofits sector
As the world struggles to manage the immediate aftermath of the outbreak, now is the best time to transform how nonprofits reach out and connect with new and existing donors. However, the issue facing many organizations are inevitably technological as digital transformation remains something of a 'dark art' for a majority operating within the sector.
From a lack of basic digital infrastructure to an over reliance on often archaic legacy systems, the sector has a distinctly 'old school' take on digital. It might explain the disparity of messaging adoption rates between different sectors: For instance, 54% of Retail use messaging while nonprofits linger at the bottom of the league table on 7%, according to Zendesk Benchmark.
It's why forward-thinking nonprofits committed to digital are choosing to team up with and rely on an official WhatsApp Business API solution provider to implement messaging solutions. Taking such a proactive and ultimately less costly approach means nonprofits can enjoy the full benefits of the messaging platform's unique functionality but without the heavy upfront investments and tech growing pains. And in these unprecedented times, such an approach is vital to securing the future of the nonprofit sector — and the future of the millions of people who rely on its critical services day in, day out.