Uncover the trends and insights that show why WhatsApp remains the world's number one messaging app.
Despite increased competition, Meta-owned WhatsApp remains top dog of the messaging world thanks to its two billion active monthly users globally. That represents nearly 33% of the planet's population with WhatApp's nearest rival, Meta's own Facebook Messenger, 'only' pulling in 1.3 billion users. Such success is reflected in every area of WhatsApp's stellar growth since its inception in 2009:
Downloaded over five billion times on iOS/Android
Downloaded 13 million times in April 2021 alone
Available in over 180 countries and in 60 languages
100 billion messages sent on the platform every day
Used by 54% of millennials and over a third of baby boomers daily
Generated an estimated $5-$10 billion in 2020
That's up from an estimated $0.2 billion in 2016.
WhatsApp: Still a superstar performer across the world
Here's tyntec's selection of vital statistics that demonstrate WhatsApp's continued popularity plus analysis of how the channel fits into Meta's existing ecosystem.
Most popular social networks globally in 2021
According to data collected in October 2021, WhatsApp continues to dominate its direct competitors while snapping at the heels of social platform leaders YouTube and Facebook.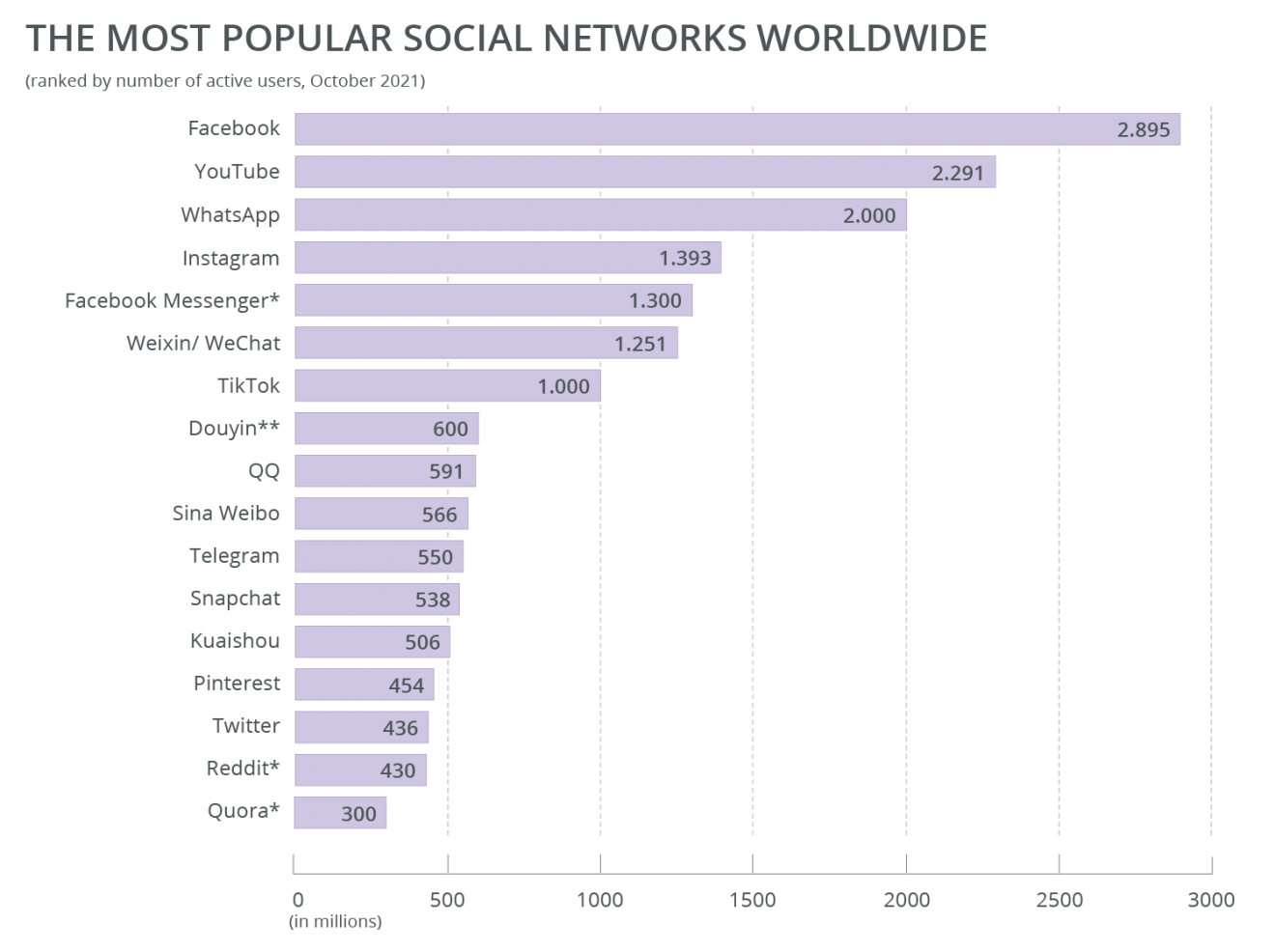 WhatsApp's near parity with Facebook ensures that brands can combine the functionality of both platforms to service consumers more effectively at every stage of their journey. For instance, think Click to Chat in Facebook Ads that open up a WhatsApp-based conversation between the customer and the brand.
Most popular apps globally in 2021
Though it has slipped from second place in 2020 to number four in 2021 overall, that's in the face of social media channels (think Facebook, Instagram, and TikTok). It means WhatsApp remains the only dedicated chat channel to hold its own in the top five most popular apps globally.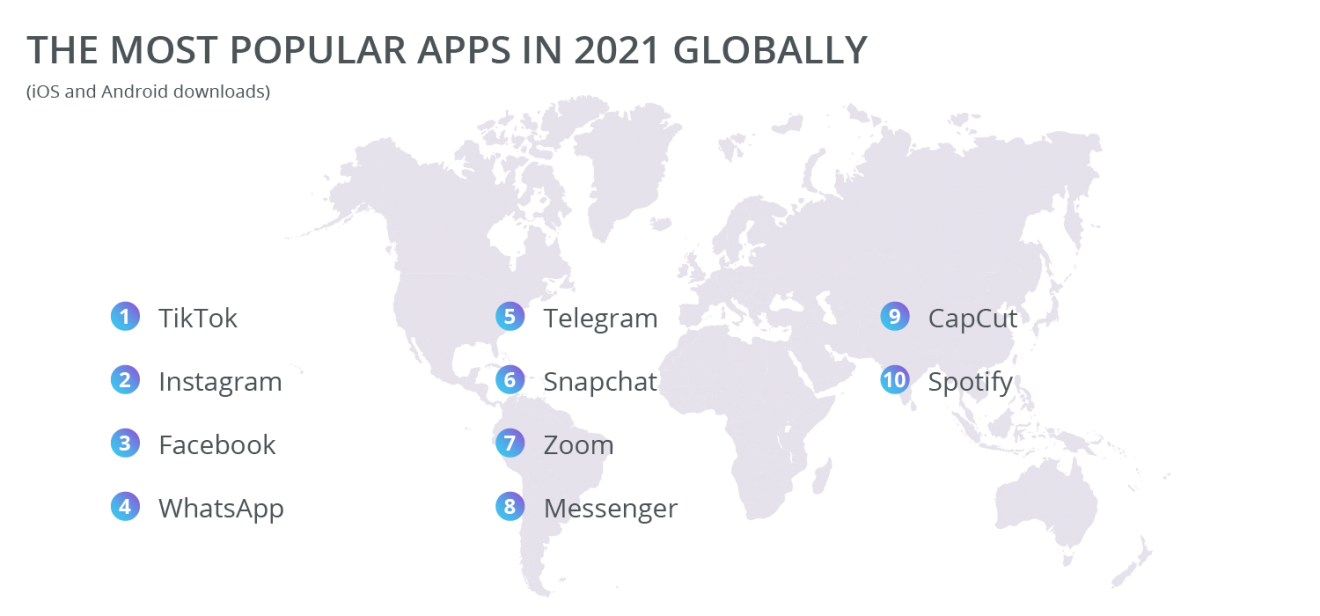 WhatsApp global usage
WhatsApp continues to grow on different fronts. For instance, 65 billion messages were sent worldwide in 2018; this figure has exploded to 100 billion in 2020 with 4.2 billion messages sent per hour, 69 million per minute, and over 1.1 million per second.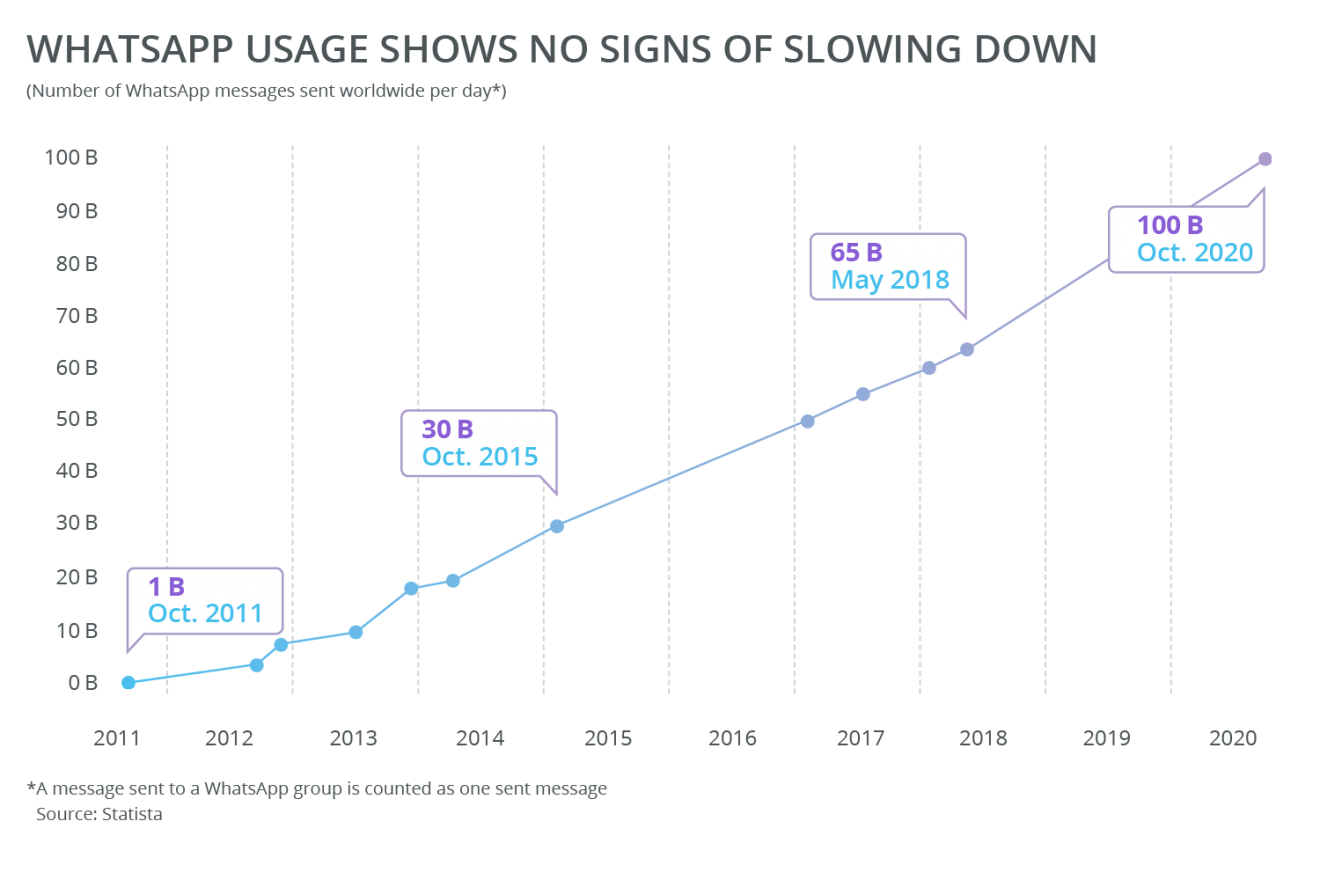 Such popularity is great news for business as it means brands can target and meet prospects and existing customers on a social channel they already use extensively in their daily lives. Better still, WhatsApp offers brands access to vital markets whether based on age, ethnicity, location, or other key metrics.
Top messaging app by country
That spread of green dominates the world map across many continents including Europe, Asia, Americas, Africa, and Oceania. It means WhatsApp is the number one messaging app in several leading economies, both globally and regionally, including the United Kingdom, Germany, Brazil, Mexico, Singapore, Russia, Saudi Arabia, and South Africa. Even in the US, the platform remains popular with 75 million users, only outperformed by Facebook Messenger.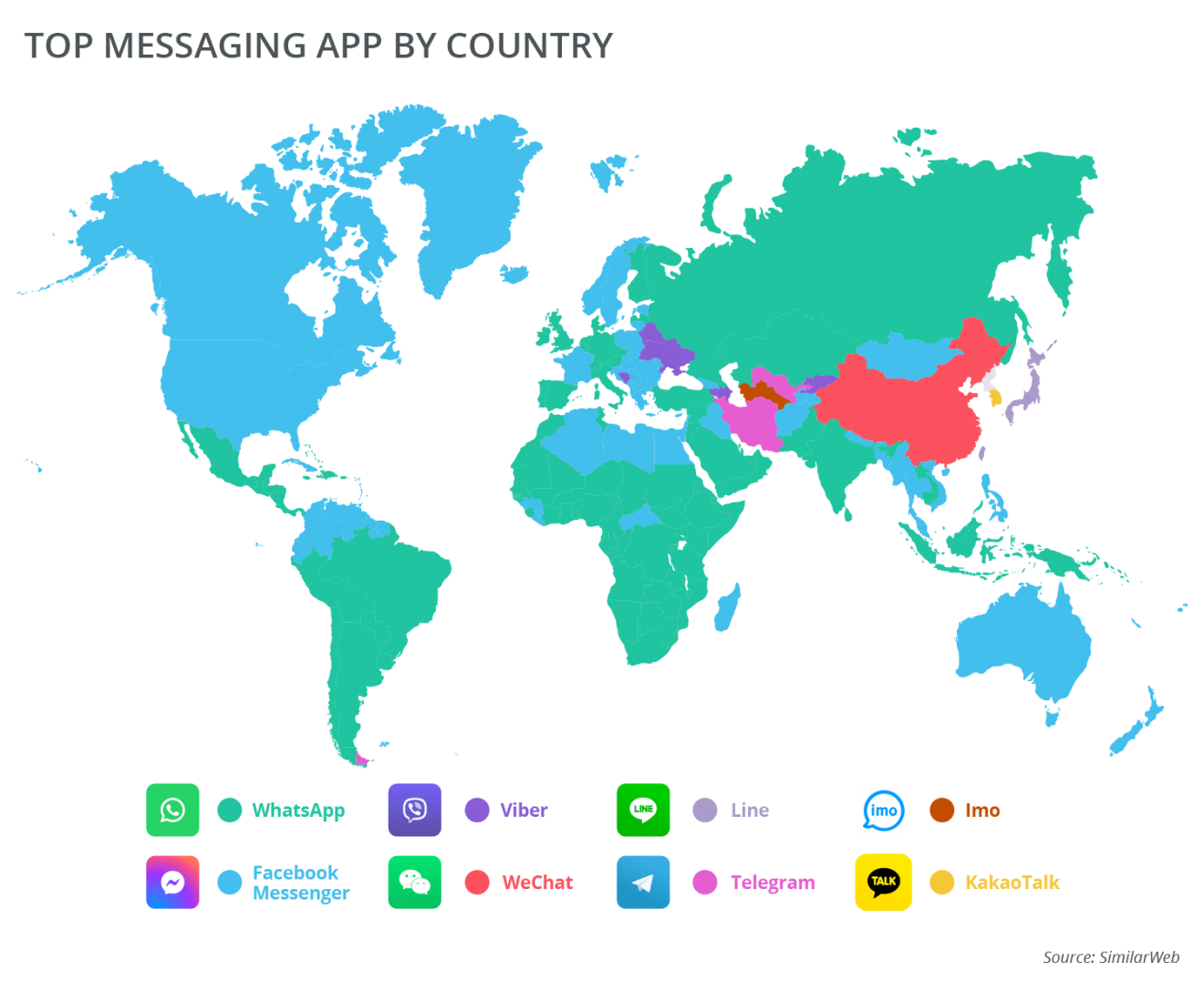 Number of WhatsApp users per country
India has the largest number with 390 million users — see below — followed by Brazil (108 million). Diving into age reveals astonishing results for the monthly percentage of WhatsApp users out of total Internet users aged 16-64: top users include 97% of Kenyans, 96% of South Africans, and 95% of Nigerians. In the West, the channel's appeal is also significant especially in Spain (88%) and Netherlands (87%).
69% of all internet users use WhatsApp (excluding China) according to GlobalWebIndex.
54.5% of WhatsApp users are male and 45.5% are female according to DataReportal.
WhatsApp: Tracking usage rates by country
Take a closer look at key countries, markets and growth areas to identify which customers in which locales and territories will benefit most from a WhatsApp-powered CX strategy.
Top performing countries
Spain
The country is the biggest WhatsApp user in Europe with 33 million using WhatsApp, making it Spain's most popular messaging channel too. In 2020, 31% of WhatsApp users were aged between 41-55 years old and 19% between 16-24, according to Hootsuite.
Germany
In Germany, WhatsApp remains by far the most popular chat app. According to Bitkom, 81% of Germans use WhatsApp, many on a daily basis with E-marketer stating the channel has penetration rates of 84% among 24-35 year olds and 78% among older users.
United Kingdom
In 2021, the total number of monthly active WhatsApp users in the UK stood at 30 million out of its 62 million internet users with a 10% increase in penetration between 2019 and 2020. Usage data reveals that 73% of UK WhatsApp users use the app daily and 94% use it weekly, says Cybercrew.
South Africa
As of 2020, 96% of internet users in the country use WhatsApp, making the channel the most popular social media platform in South Africa. With 23 million users in 2021, it is predicted that user numbers will hit nearly 28 million by 2026 according to Statista.
Top performing territories
Latin America
According to monthly percentages of WhatsApp users out of total internet users, many Latin America countries feature in the top 20 WhatsApp-using countries. These include Argentina (93%), Colombia (92%), Brazil (91%), Costa Rica (83%), and Chile (80%).
Market watchers such as the Mobile Growth Association (MGA) believe such high usage rates are down to localized issues from uncompetitive mobile carriers through to the high costs associated with mobile texting and calling. Plus some providers in countries including Colombia offer unlimited WhatsApp use as part of their mobile offering.
Middle East
The popularity of chat channels is rising in the Middle East with WhatsApp and Snapchat accounting for 10% of all mobile data traffic. This figure is expected to only rise in future: According to research carried out by Northwestern University in Qatar, 75% of nationals across seven nations – Egypt, Jordan, Lebanon, Qatar, Saudi Arabia, Tunisia, and UAE – already use WhatsApp.
Asia
According to We Are Social, the Asia-Pacific region has 2.14 billion active social media users, meaning a huge 50% penetration rate. WhatsApp represents a key platform and is popular in countries including Hong Kong and Indonesia with the monthly percentage of WhatsApp users out of total Internet users in the latter country standing at 87%. Meanwhile, in Singapore, 73% of the population use WhatsApp every day.
Inside track: Where WhatsApp is growing globally
Africa
WhatsApp is the most popular messaging app in most African countries with significant penetration rates across the continent. For instance, 97% in Kenya, 96% in South Africa, and 95% in Nigeria. In Zimbabwe alone, WhatsApp accounts for nearly 44% of all the country's mobile internet use.
USA
While WhatsApp was born in the USA, the States only had a modest 75 million users in 2020 but that figure is expected to hit nearly 86 million by 2023. More relevant to brands is WhatsApp's usage rates across US ethnic groups. The latest available data from the Pew Research Center shows Hispanic Americans use the channel the most (46%) with African Americans on 23% and Caucasians on 16%.
India
India's number of users comes in at a colossal 390 million (out of the country's 680 million internet users). WhatsApp also recorded the biggest growth in downloads in the Google Play Store in India, climbing by 68% in the last quarter of 2020 with 30.13 million downloads.
Big business
With 215 million downloads on Android and iOS devices, India is also the world's biggest downloader of WhatsApp Business according to Statista, meaning there is already a strong market for WhatsApp-based customer conversations. However, larger brands are better served by the more feature-rich WhatsApp Business API solution.
WhatsApp & business: Bringing it all together for targeted CX success
While WhatsApp remains the global messaging leader, its success is not uniform around the world.
Companies looking at integrating messaging apps into their omnichannel strategies should carefully consider where it makes sense to implement WhatsApp Business or the WhatsApp Business API. For instance, while the channel may be hugely relevant in countries including India and Brazil, WhatsApp shouldn't be an urgent consideration in, say, Australia. This does not mean companies should dismiss WhatsApp in low-penetration countries but that other channels should be prioritized.
Away from specific countries and one clear trend remains evident year on year; that WhatsApp continues to grow and dominate in spite of strong competition with more and more users downloading and actively using the chat app. And as brands continue to introduce the channel into their CX strategies, expect WhatsApp's relevance in the commercial space to grow even further over the months and years ahead — and become the de facto channel for deepening customer engagement and loyalty rates across the world.
Next Steps