To create better customer experiences and drive up revenue rates, sports clubs are turning to WhatsApp Business and Viber Business Messages to ace their game — here's how.
What underpins any successful sports club is its fans: that 'tribe' of allegiance-sharing devotees who are 100 per cent committed to the team. Think of a sports club as a tightly knit family of professionals and fans, one where victories are celebrated and losses commiserated by everyone, and driven by a constant stream of opinions, news, and shared experiences.
It's also the same dynamic that drives conversations on chat apps where friends, family, and colleagues meet up to celebrate life's 'wins', commiserate when things go wrong, and talk about their daily lives. With so much in common, it perhaps shouldn't come as a surprise that sports clubs are increasingly realizing chat apps' potential to connect with and serve fans on platforms they already know, trust, and use every day.
This is especially true in the COVID-19 era, where tournaments are currently being held without spectators, meaning clubs must also find new ways to fire up fans' passions for their favorite teams while social distancing policies remain in place — and just as importantly, offer more engaging and meaningful customer experiences once the pandemic is over.
How WhatsApp & Viber keep sports clubs ahead of the game
From offering exclusive game images and player interviews through to managing subscriptions and promoting ticket offers, forward-thinking sports clubs are leveraging popular messaging platforms such as WhatsApp and Viber with often game-changing results:
Customer Service & Engagement
Acting as information hubs, chat apps offer fans a more convenient, faster way to access key club services. Think membership applications, season tickets, game results, even updates on new signings, with both WhatsApp Business and Viber Business Messages able to deliver a diverse range of information as well as manage exchanges frictionlessly.
Less waste means bigger wins
Adopting a chat app-centric approach also helps reduce the cost and resource waste typically associated with inefficient customer services. It's why the Dutch Premier Division soccer club, Vitesse Arnhem, turned to WhatsApp Business to deliver better outcomes for fans with ticket purchase queries.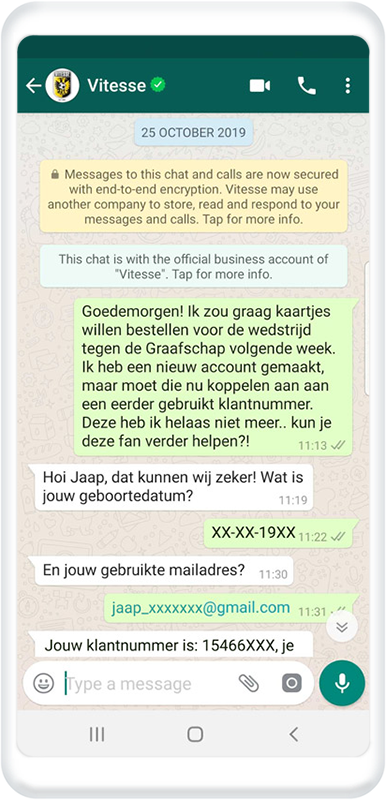 Dogged by the relatively slowness of its existing email and phone services, the club turned to WhatsApp because of the messaging platform's deep penetration in the Netherlands (according to Statista, the app is installed on 96% of all Dutch phones). Launched last year, the club's WhatsApp-powered service enables fans to message about long-term subs and match tickets as well as request up-to-date news on club activities.
To manage the transition to WhatsApp successfully, the club only needed to train up four new customer service live agents to handle WhatsApp conversations, while a single community manager was drafted in to manage other customer service queries. Such a relatively small outlay garnered exceptional results with a 40% increase in first-contact resolution, an 80% decrease in average response times — and critically, a 10% increase in revenue.
Automate to innovate
Other clubs have replaced live agents with virtual assistants to answer typical FAQ-like questions posed by fans. For instance, Spanish football club, Atlético de Madrid, created an index of common customer queries accrued from its traditional comms channels including social media, telephone, and stadium office.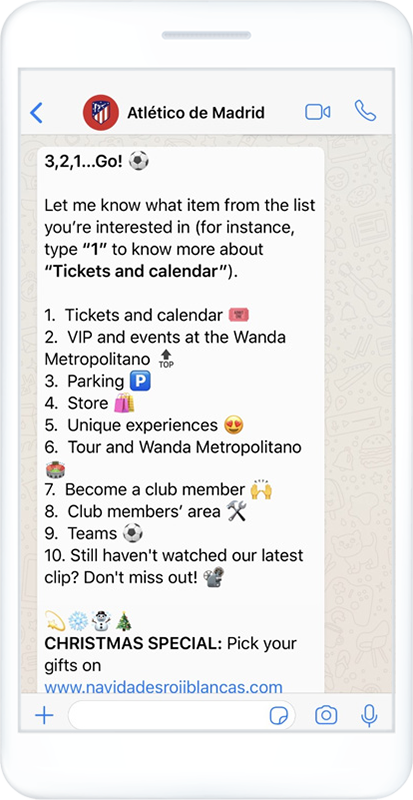 The club subsequently launched a virtual assistant on WhatsApp, able to respond to such queries in a conversational style using emojis, videos, photos, and more.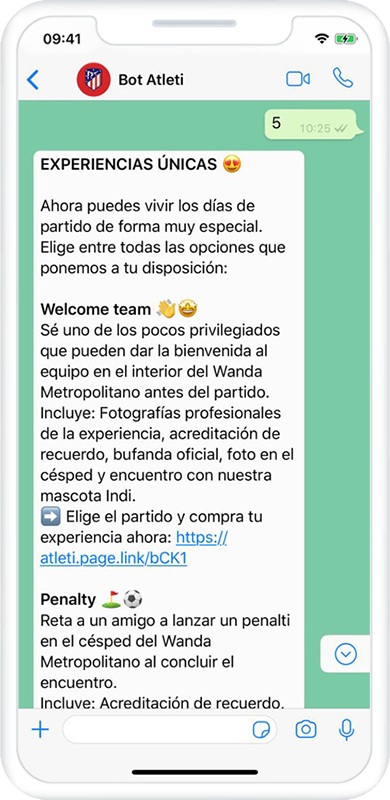 Better still, the assistant is multilingual, able to answer fans in both English and Spanish. The net result?
36% of traffic from customer conversations was redirected to the sales platform.
35% of customer interactions were handled outside of business hours.
46,000 messages were sent in response to fan queries within the first two months.
Marketing & Sales
The adoption of WhatsApp and Viber by sports clubs has seen one-way marketing messaging being shown the red card too, replaced with more personalized, targeted 'conversations' that increase conversion rates and shorten sales cycles. To fully leverage such potential, both messaging platforms offer a raft of functionality to exploit:
How to connect fans to chat apps
Deploy WhatsApp click-to-chat buttons in Facebook and Instagram ads that, when clicked on, allow fans to start chatting with a live agent or virtual assistant right away. To promote the channel, QR codes can be used in physical media and WhatsApp conversation starter buttons deployed on official websites.
Click-to-chat in particular has proven to be a success for sports organizations. For instance, Tennis Australia, the game's governing body down under, featured click-to-chat buttons in its Facebook ads promoting Australian Open ticket sales. These netted big gains for the organization including a 24.3-times return on ad spend, plus 4,600 sales from click-to-chat ads alone. Better still, these benefits were delivered at a 16% lower cost per acquisition.
How chat apps service sports fans
Both WhatsApp Business and Viber Business Messages offer powerful methods for directing fans to the products and services they're looking for. Live agents or chatbots can be used as 'product finders', offering up the best options based on the customer's specific request and even purchasing history.
For example, Tennis Australia deploys a bot to help fans select their ticket preferences, match dates, and times of day. Once all information has been submitted, the bot offers a series of priced choices for the fan to select from, and pay for.
How chat apps enhance customer care
Once an order has been made, receipts, confirmations, and tickets can be delivered via notification. For instance, on match day, a fan can receive timely updates about which gate to head to, at what time, and enjoy special promotions or loyalty rewards such as in-app QR codes for, say, discounts at club stores or stadium food outlets.
How chat apps push brand messaging further
To help spread branding beyond fanbases, clubs are offering digital sticker sets for use in messaging platform conversations. For instance, FC Barcelona gifted fans an exclusive downloadable club sticker pack via Viber Business Messages.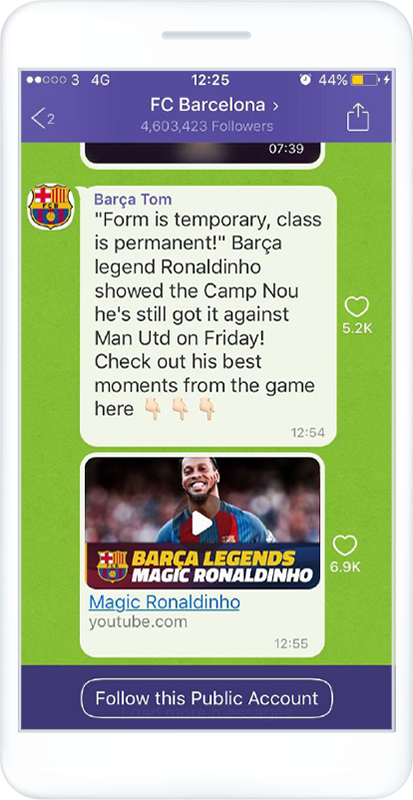 If used in a chat with a friend, the sender was entered into a competition to win a trip to the club's stadium, Camp Nuo. This innovative approach saw 5.3 million sticker packs downloaded, plus a 9.35% click-thru rate (that's a huge 667% increase on the industry average).
Generational shift: Why sports clubs must be 'on the ball' in this digital era
While the benefits of WhatsApp Business and Viber Business Messages for CX, marketing, and sales are obvious, there is also another, arguably more pressing issue at play here: How a new generation of sports fans — millennials and younger — are choosing to access and follow sports such as soccer in the first place.
"Millennials don't engage with football in the same way as older generations," explained Emma Diskin of socios.com, a fan engagement and rewards platform, to news site The Drum. "Their content consumption is driven by immediacy and mobility, with fans seeking out content and effectively pulling together their own highlights packages from Twitter, Facebook, Instagram, and WhatsApp."
This change will only accelerate over the coming years, making the need to introduce more digital-first channels critical to ensure younger fans' demands are successfully met.
However, introducing WhatsApp Business or Viber Business Messages can represent a genuine challenge to sports brands that are not as 'tech-savvy' as other sectors. It's why partnering up with official WhatsApp and Viber Business Message providers can help take the strain.
These offer a range of design, rollout, and maintenance services that ensure any investment in WhatsApp or Viber reaches its full potential. Whether setting up accounts or recommending off-the-shelf virtual assistants, providers ensure sports clubs can continue to service devoted fans in the digital space long after the final whistle has been blown on the pitch.
Discover how to unlock the game-changing potential of WhatsApp and Viber for your sports club by contacting tyntec here.