Fashion shoppers increasingly expect more digitization, personalization, and conversation throughout their customer journeys — here's how WhatsApp can help meet this emerging demand.
At first glance, digitization and messaging should represent the very antithesis to traditional fashion shopping. Purchases are usually driven by trips to retail stores, waiting for a changing room, and gleaning all-important advice from fashion experts. In other words, a world far removed from chatbots, GIFs, and smartphone screens.
But more and more consumers are now embracing digital, a move driven by Millennials and Gen Zers who demand mobile-first CX wherever their buying journeys take them – even in fashion: Think wanting recommendations based on their purchase history data, using their smartphone cameras to carry out 'visual searches,' and more besides.
Savvy fashion house CX specialists have already cottoned on to this. They understand such demand represents a real opportunity to create faster, frictionless CX, driven by digital conversational commerce, and are turning to WhatsApp, the world's number one messaging platform, to deliver on such promise.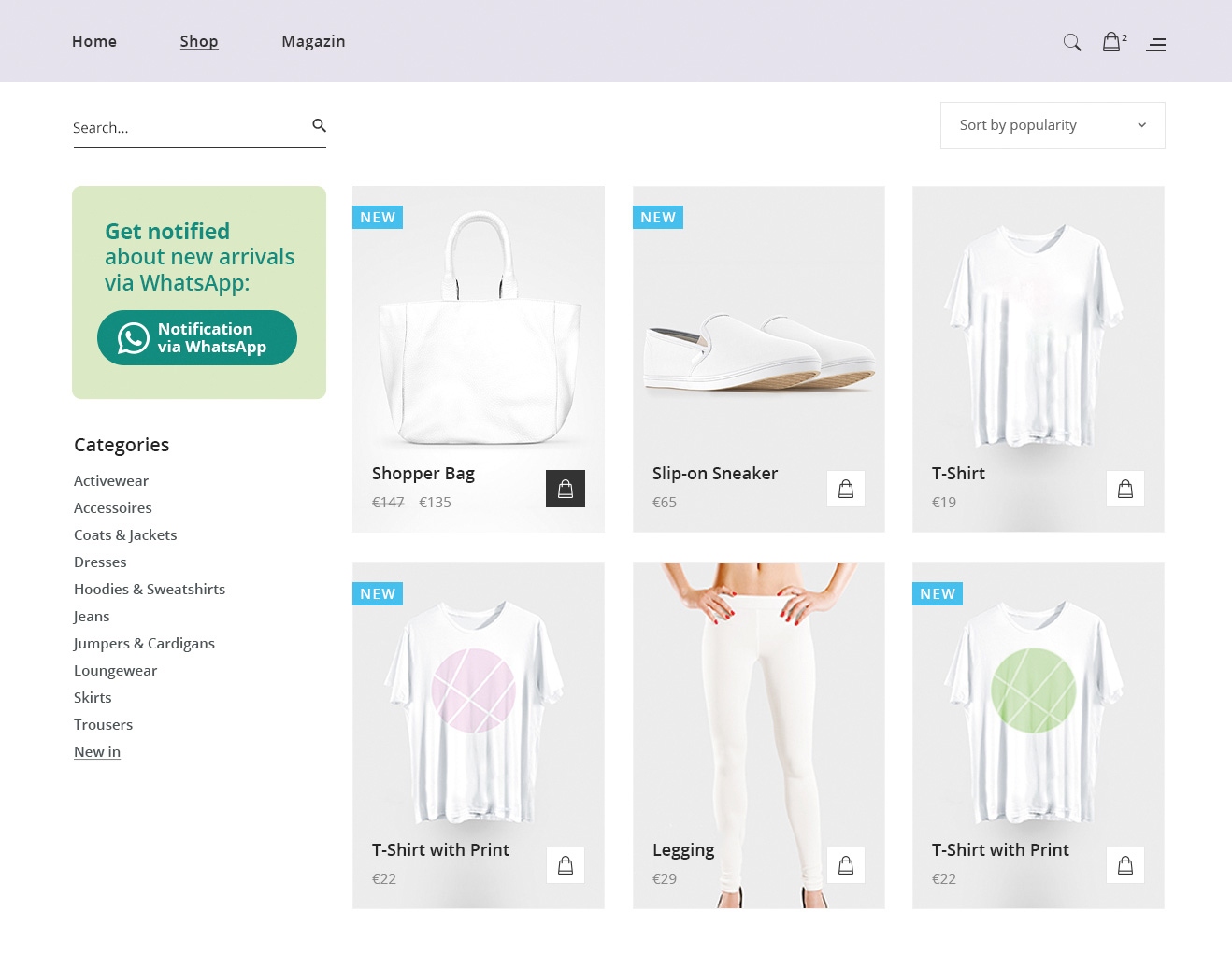 How fashion trail blazers are already innovating with WhatsApp
Several major fashion brands are using WhatsApp Business to successfully deepen customer relationships, stealing a march on competitors still relying solely on traditional CX channels:
Spanish fashion brand Zara lets customers use the messaging platform to connect with the company instantly and chat about typical issues such as sizing, colors, materials, order updates, and returns.
Sport fashion brand, Adidas, has been answering customer queries via WhatsApp since 2015, and last year innovated by allowing amateur teams to pitch for a professional athlete to join them for a single game via an Adidas WhatsApp group.
Indonesia's largest online marketplace Tokopedia sends one-time passwords via WhatsApp, increasing the authentication success rate by 10%.
Other fashion brands have successfully experimented with the platform, including Agent Provocateur that offered a 'discreet' customer service for its shoppers, and Clarks that answered customer queries about its campaign promoting boys' shoes.
Some fashion retailers are basing entire business models round messaging. For instance, Yoox-Net-a-Porter offers a personal shopper service that delivers curated fashion advice and products to its subscribers via WhatsApp. It's a fresh approach that places conversational commerce front and center, and successfully addresses the lack of personalization that often dogs ill-conceived digital customer experiences.
WhatsApp Business: The 'Supermodel' of Digital Customer Experience
For fashion brands to fully leverage WhatsApp's potential, it's important to understand the platform's entire range of functionality for servicing customer journeys — from initial product discovery through to purchasing and after sales, and how it benefits both the consumer and the fashion brand.
Why WhatsApp Business is a great fit for fashion customers: Make product discovery a delight, not a deluge
Fashion is about personal expression; in reality though, that can represent a whole lot of 'expressions' for a single consumer to contend with before deciding on what purchase is right for them. Or more often than not, the experience can leave them feeling overwhelmed. With WhatsApp though, purchasing suggestions can be personalized and delivered at the right moments based on their previous buying preferences and other insights provided by the company's CRM and other systems (through backend integrations). It means fashion retailers can finally help their customers tackle those feelings of 'decision-paralysis' once and for all.

Swap out changing room queues for instant rich media
WhatsApp enables fashion brands to move beyond plain text and emojis, and deploy a raft of rich media to help customers visualize just how great they'll look in the clothes they're considering. Think images, GIFs, carousels, videos, and PDFs that bring the shopping experience to life on that diminutive phone screen. This in turn can help drive down returns rates, which currently stand at 40% in fashion e-commerce (that's 10% higher than any other form of online retail).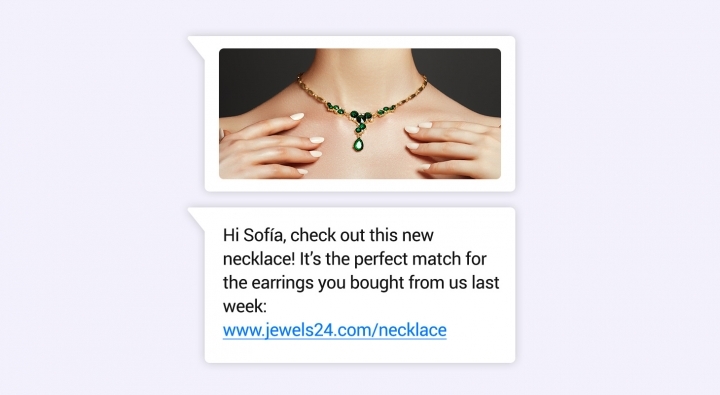 Why chatbots are now back in fashion
Gone are the expensive, low IQ-touting chatbots of yesteryear. They've been replaced with super smart bots with lower development costs — and even entire out-of-the-box solutions. It means bots can be rolled out at speed on WhatsApp, and begin servicing customers who need answers to common FAQ-like questions, such as details on clothing sizes, physical store locations, loyalty point updates, and more. Better still, deploying a bot sees traffic being moved away from time, resource, and cost-hungry call centers.
Customer journey that doesn't miss a beat
If the chatbot does come up short, customers can be handed over to a live agent in an instant to ensure their journey doesn't end in a conversational cul-de-sac. Messaging with a live agent also helps deepen engagement with customers, making them more likely to complete their purchases — and promote the brand. This is great news as the shopping card abandonment rate in online fashion retail currently stands at 68%, according to Smart Insights.
Deliveries made as visible as fashion runways
No, delivery logistics aren't as appealing as a Milan catwalk but for customers, knowing when that new top will arrive is still critical. After all, 93% of consumers state they want to receive updates about where their parcel deliveries are, says Convey. And WhatsApp can help with that too, allowing fashion retailers to send out automated notifications so the customer always stays informed.
Why WhatsApp Business is a great fit for fashion brands: All the functionality without any of the development worries
From plugging into existing e-commerce platforms to introducing the automation needed to support the next-gen customer service stack, WhatsApp Business integrates with many existing enterprise systems and solutions. It's a process that can be made even simpler by partnering up with an official provider like tyntec who can be relied on to speed up the deployment process.
Fashionable ways to boost WhatsApp adoption
Get shoppers using WhatsApp quickly by promoting it via conversation starter buttons on main websites, click-to-WhatsApp ads in Facebook or Instagram ads, and QR codes in off-line ads and in-store. Go viral by leveraging branded sticker sets that customers can download instantly (say, as a loyalty reward), so they start using them in WhatsApp conversations with friends, family and colleagues, in turn spreading the fashion brand's label far and wide.
Functionality that's got fashion's back covered
tyntec's API for WhatsApp offers a raft of budget-friendly options and business continuity features that ensure a fashion brand's reputation — and profit margins. In the off chance a WhatsApp message delivery fails, tyntec's API can automatically send the message via SMS, making sure all messages reach the customers.
P.S. The unfashionable (but still important) bit
Even when enjoying great CX experiences, consumers still worry about their privacy online. For instance, 68% of US consumers say online security (or the lack of it) is one of their biggest worries, according to ExpressVPN. WhatsApp Business provides peace of mind to consumers by displaying a verified business badge, and securing chats with end-to-end encryption that WhatsApp users trust. And to satisfy corporate governance and compliance requirements, tyntec's WhatsApp Business solution is fully compliant with GDPR.
Give fashion shoppers what they want with WhatsApp
Providing great customer experience is now more important than ever. According to Salesforce, 84% of consumers say that a brand's customer experience is as important as its products and services. Critically, superior CX driven by conversational commerce is "one of the few remaining means of sustainable competitive differentiation," says Gartner.
That's why many brands are turning to WhatsApp Business and jump start the conversational commerce engine.
From creating an official WhatsApp account and securing all-important verification to seamless backend integration and even chatbot deployment, as an official WhatsApp Business solution provider tyntec brings the speed and capabilities necessary for fashion brands to transform their service and commerce experience.