The appeal of fashion brands goes beyond fashionable products. How to create stylish customer experience that your customers already love: WhatsApp.
This is not new news — the way fashion consumers are shopping is changing. Just a few weeks ago, the luxury department store chain Barneys filed for bankruptcy and announced it will be closing a large number of stores. As shoppers make more and more of their purchases online, brick-and-mortar stores are becoming redundant.
Online clothing brands like Net-a-Porter, ASOS and Zalando continue to sweep the market. Yet as the industry moves from in-store to online shopping, the personal touch of customer service is often lost. Annoying contact forms, boring emails, choppy, impersonal messaging systems, and apps — so many new apps to download — have all become a daily part of our online shopping experience. The market has yet to consistently reach a place where the conveniences of online shopping come with the level of personalized customer service often found in stores.
Unfashionable Customer Service has a Cost
When companies fail to communicate with their customers via the channels their customers prefer, it creates friction and leaves them less likely to interact with that brand in the future.
CX Hiccups in Email and In-App Messaging – An Example
One personal example comes from a shopping experience with a major online retailer, whose only forms of communication come via email and in-app messages that lack push notifications. After I ordered a dress from this brand, I received a purchase confirmation, checked the package arrival date and closed the app. Then five days later when the package hadn't arrive as promised, I went back into the app, opened the order history tab, clicked on the order and noticed a message saying there was an issue with my order. Because I didn't get a push notification, I had no reason to believe I was missing any messages. And because I don't open this app every day, I never saw the message. When I checked my email, I saw that the company had also emailed me, but the message had ended up in my spam filter. The message said I needed to change my order to another dress, which would mean another five days until my package arrived. But the five-day delay meant it was too late for me to receive the dress in time for the occasion I ordered it for.
I brought this up with the retailer's customer service and received this reply: "I understand that it's rather disappointing that you were not informed about the issue and it's sad that we have no so-called notification system in the customers' accounts, but you should have received an email about this — it could be in your junk folder."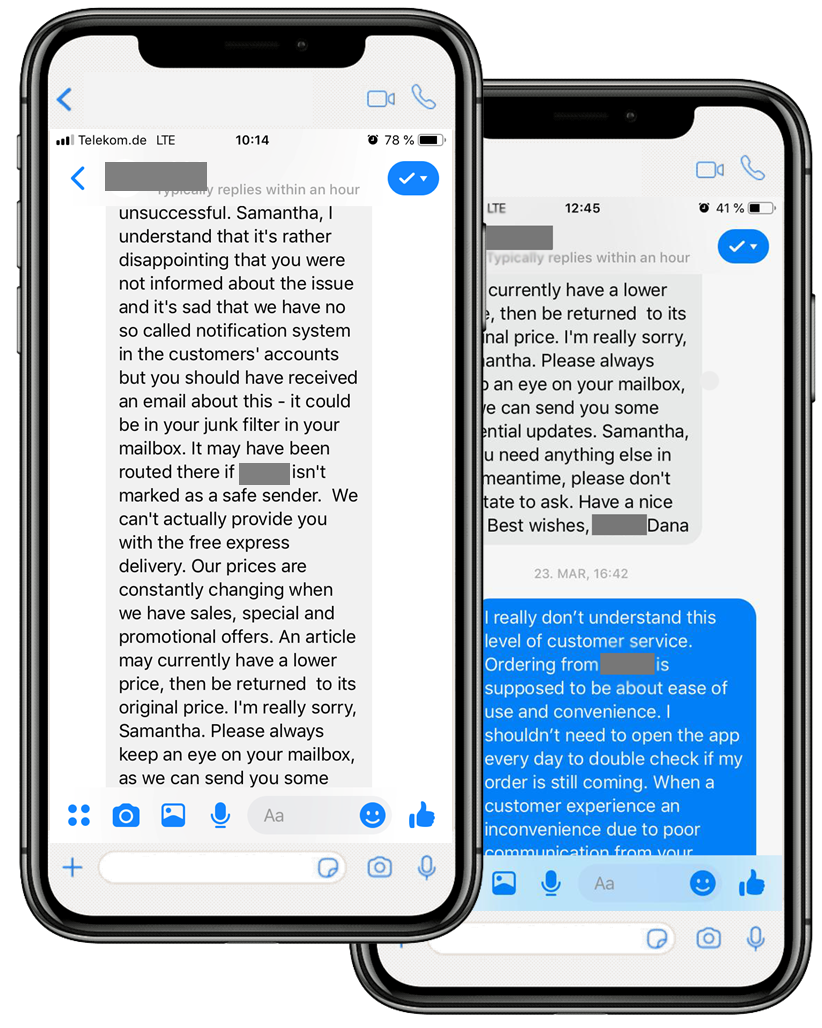 More than Trendy Products with Conversational Commerce and WhatsApp
Most people don't keep an eye on all the orders they've made by constantly checking their spam filter for missed messages or opening the app of every store where they have made purchases. In fact, only 7 percent of 18- 24-year-olds open all their personal emails, and that number rises to 9 percent for 25- 34-year-olds. If fashion brands want to provide online shoppers with the same level of seamless customer service they offer in their stores, they need to engage with their customers via the communication channels they already use — and leverage personalized communications in this process.
Highland Europe, a venture capital and private equity firm that invested in Threads last year, has also noted this trend. Tony Zappala, a partner at Highland Europe, stated, "We are seeing more and more that customers want to shop from their mobile device through channels such as Instagram, Snapchat, WeChat, WhatsApp and so on." (Robberts, 2018)
These consumer habits are not lost on top fashion commentators. Business of Fashion, a leading authority on the global fashion industry, recently commented that "[there are] several clothing brands embracing 'conversational commerce,'" and that it is "set to grow."
Personalized Customer Service in Fashion Gaining Space with WhatsApp
One way fashion brands are starting to engage in conversational commerce is by communicating with their customers via the channels their customers already use to communicate with their friends and family. Threads Styling is a UK-based luxury brand with no physical store or online shop. All it has is an Instagram account with link that opens a WhatsApp chat.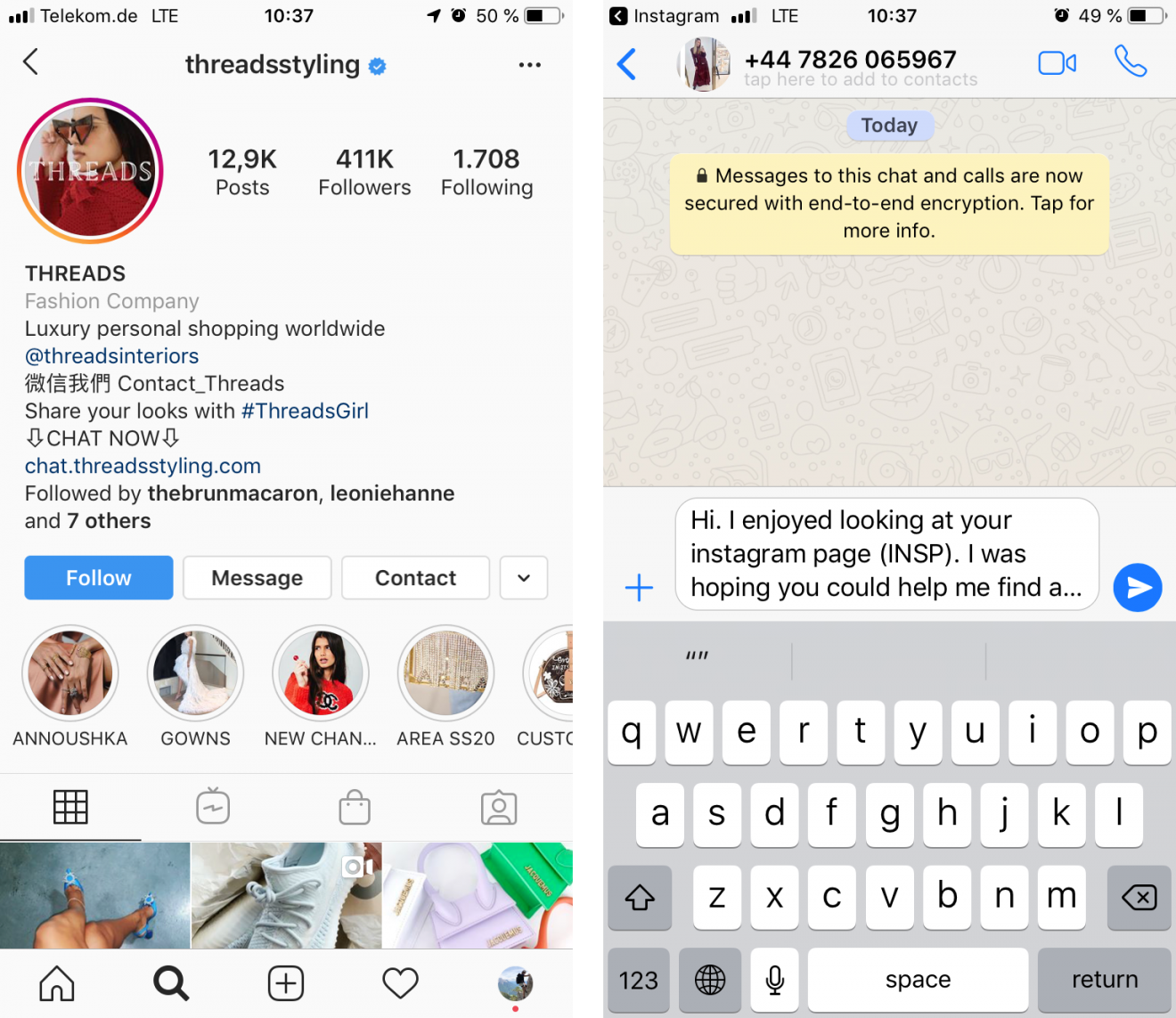 Customers can instantly start chatting with a sales rep and receive personalized shopping support without having to download an app or wade through their email spam folder.
The company claims shoppers are really embracing this approach and that their business has been growing by 75 percent each year. (Lieber, 2019) The founder of Threads, Sophia Hill, says, "I started the business because I believed that luxury retailers were ignoring my peers, the generation of shoppers under 40. I believe the future of retail involves personalization and chat. People want something that is akin to a retail experience, but they want it through their mobiles and they want unparalleled convenience and availability." (Perez, 2018)
How to Personalize Shopping with WhatsApp Business
Shoppers want to find clothes, compare styles and prices, make purchases and get personalized service in a place where they feel comfortable. That happy place is now WhatsApp.
It's time for fashion brands and retailers to personalize communications in the world's most popular chat app. Shoppers can ask questions about their purchases or look for recommendations. Brands and retailers can easily notify customers when any hiccups occur, they can provide shipping alerts, and so much more. Being a fashion brand these days requires more than fashionable products —  fashionable customer service is fab, too.
Next Steps
You may want to continue here: