More and more consumers are turning to digital channels to order takeaways and home deliveries. Here's why a WhatsApp-based chatbot is an ideal solution for servicing such growing demand.
Takeout and home deliveries are becoming increasingly popular, especially with younger generations. For example, 24% of Gen Zers order in around four times a week, preferring to eat their meals while watching Netflix than in a noisy restaurant.
To ensure this growing demand is catered for effectively — and hungry customers don't end up just plain 'hangry' — food service providers should consider optimizing their ordering processes. After all, traditional touchpoints such as calling in an order are losing favor, with 67% of people who have previously ordered digitally saying they prefer the experience.
Of all the digital channels available, it's clear which suits consumers and their busy lives the most. According to eMarketer, 45.5% of US residents used messaging apps in 2018, with over half expected to use them by 2022. Messaging is even more popular with Gen Z and millennials: 98% of Gen Z own a smartphone, and 57% use messaging apps at least half the time that they are using their phones. Meanwhile, over 60% of millennials want to communicate with brands via direct messaging.
Why WhatsApp should become the go-to platform for the food sector
Now enter WhatsApp — the world's No.1 messaging platform used by 2 billion people in more than 180 countries. It offers a secure, trusted platform that people already use in their daily lives to chat and, crucially, to make purchases. It's why an increasing number of businesses are deploying the platform — via WhatsApp Business with a chatbot functionality — to serve customers, and offer great customer experiences (CX).
To illustrate how brands can rapidly adopt the technology to service their existing CX strategies, tyntec and virtual assistant specialist Plantt have teamed up to create this live demo. It uses WhatsApp combined with a chatbot to show how food retailers can help customers choose exactly what they want, simplifying the ordering experience in the process:
Instead of having to navigate to a company website or download/open up an app, the customer simply starts a chat with the pizza store right in WhatsApp. The customer receives an automated reply immediately.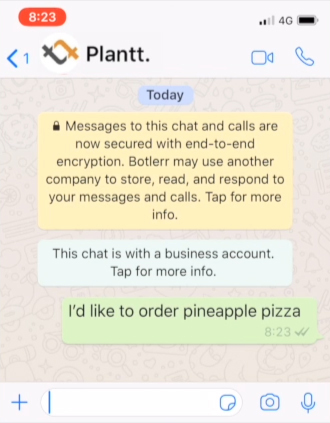 Bear in mind that if a customer is uncertain about what to order, there is no need to overwhelm them with lengthy, unoptimized menus. Instead, the chatbot can suggest the store's most popular pizzas/pizzas previously ordered by the customer to choose from instead.
Step 2: Selecting the delivery
The chatbot replies to the order in an instant, removing the inconvenience of the customer having to wait for a human agent response:
Because the customer has already registered their details, they can simply type:
Customer: My home.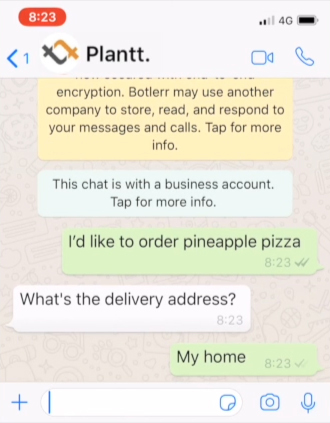 Thanks to WhatsApp Business's CRM integration, the chatbot automatically knows where 'home' is. Alternate addresses such as 'My office' or 'My folks' can also be pre-stored by the customer for quicker selection too. Also, if the customer wishes to pick up the order instead, a map showing the restaurant's location can be sent and displayed in the conversation flow.
Step 3: Reviewing the order
The chatbot reviews the order, sending a product image plus key details to ensure the customer is happy to proceed: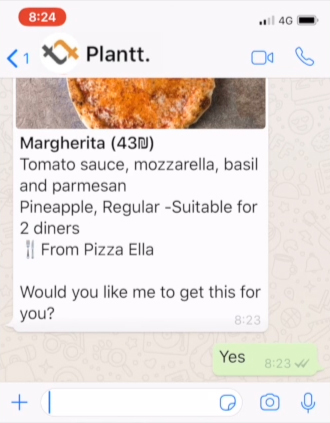 Step 4: Confirming the order
The chatbot offers a final order confirmation of the order and delivery address for the customer to sign off on: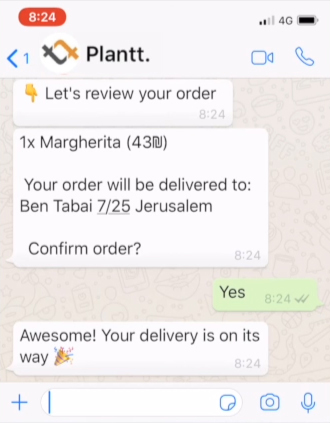 The order goes straight to the kitchen for preparation.Critically, this entire process has only taken 25 seconds to complete. No hassle, no fuss — just an excellent customer experience with zero friction.
Connect with digital-savvy customers by deploying WhatsApp
Not all digital experiences are the same, though, and that's a critical point to remember. Research shows that 63% of Americans will trash their digital takeout order due to a poor customer experience. However, a WhatsApp-based virtual assistant offers unmatched levels of simplicity and speed that boost CX satisfaction levels, not harm them.
By leveraging the world's number one messaging app, food service providers can reach out to customers on their preferred digital channel and, more importantly, ensure they always deliver great CX as well as great takeout.
Oh, and one final stat to consider: According to Nielsen's Facebook Messaging Survey, 53% of respondents say they're more likely to shop with a business they can message directly, and that figure is only set to increase in the months and years ahead. Now there's some serious food for thought.