Digitized and personalized experiences with WhatsApp Business can make a world of difference to boost tourism.
With over 1.5 billion users, WhatsApp is the number one chat app worldwide. For the tourism industry, this global reach makes for a communication channel customers from all over the world will already be familiar with. In particular, the WhatsApp Business Solution provides local tourist boards an opportunity to build a more direct and personal relationship with travelers, beyond the physical information centers.
To integrate WhatsApp Business, there's a different process to follow than tourism boards might be used to. WhatsApp is cautiously rolling out the solution through a few selected providers, such as tyntec, so as to preserve the privacy, 'no-ads' feel, and free, simple messaging that its 1.5 billion users love.
Travelers are looking for smooth logistics and personalized experiences, and tourism offices are well-set to provide this for those visiting. There're three key areas where WhatsApp Business can therefore be a game-changer: providing a digital information center; easy sharing of pertinent local updates; and personalized experience with travel advisors.
The Digital Tourist Information Centre
Whether travelers are planners or more serendipitous in their exploration of a new place, having key local information to hand is vital. Building upon walk-in information centers, WhatsApp Business offers tourist boards the opportunity to provide tips and answer questions from travelers, on-demand.
Tourists may want to find the best ski slopes or know what local events are happening. They may have logistical questions such as where the safest alpine touring routes are or the easiest way to get to the airport. They may want to buy museum tickets or travel passes. Providing this digital tourist information center, with quick and easy customer communication, means tourists have a smoother and richer experience, and the local businesses and events increase income and footfall.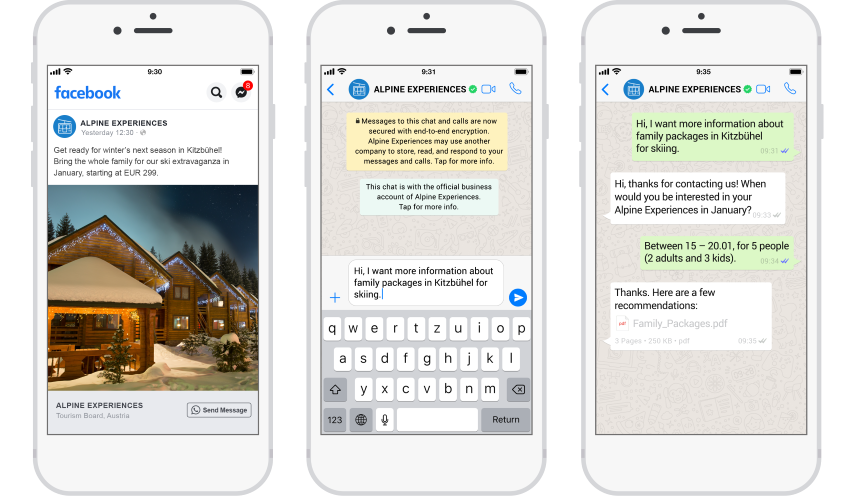 Local Updates to Serve the Travelers and the Locals
Keeping tourists informed also means keeping tourists safe. By opening up a key communication channel with those visiting new places, tourism boards can provide crucial information in real-time. With users normally having WhatsApp notifications appear on the home screen, key messages are less likely to go unnoticed.
Tourism boards might want to update tourists about weather conditions if on a ski resort, or in a surfing town. They may want to alert tourists to any key closures of main train stations or roads. WhatsApp Business used for these kinds of logistical or health and safety alerts not only serves the travelers in keeping them informed, but also reduces the chances of accidents and therefore the burden on local emergency services. Beyond the health and safety benefits, by providing tourists with pertinent local information, they can have a smoother and more memorable trip, without having to worry about logistical hiccups.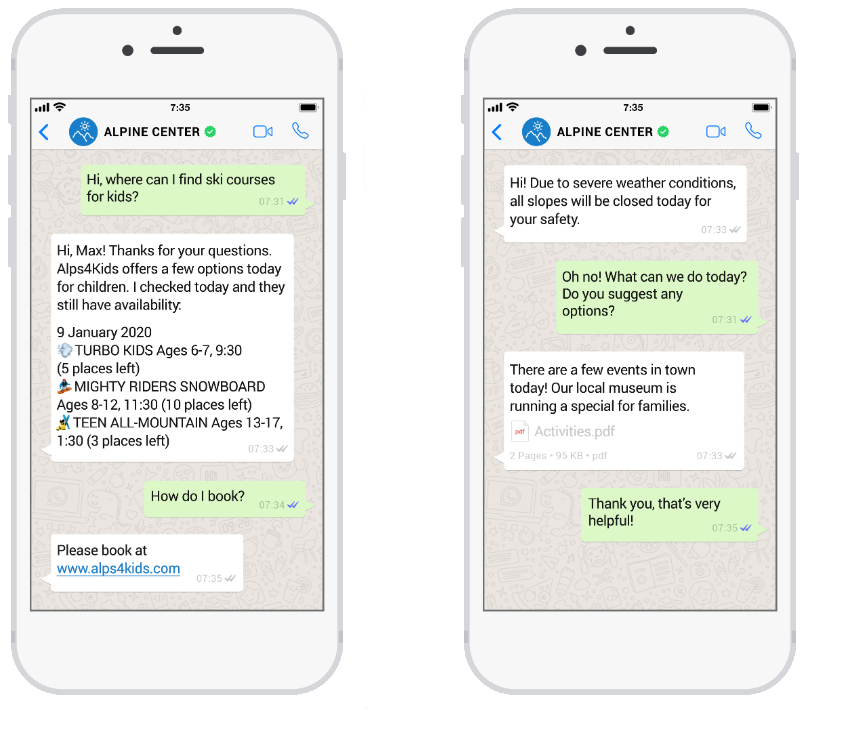 Getting Personal with Travel Advisors
For some, traveling to a new place means meticulously planning a schedule. For others, having someone 'in the know' help them would be far preferable. Not everyone knows someone local, so WhatsApp Business allows tourism boards to help new arrivals plan trips and engage more with the place they are visiting.
Visit Berlin provides a phone number where travelers can call a travel advisor and put together a personalized program. WhatsApp Business could provide this same functionality in chat-form: the useful service with less of a customer service burden on tourist board teams. Tourists share their dates and their type of trip – business or pleasure – and the travel advisor helps book hotels, attractions, and special experiences, personal to each traveler.
WhatsApp's 'click to chat' functionality allows for tourism boards to capture interested travelers in their targeted marketing efforts by jumping straight into personal direct conversations. Investing in Facebook ads to promote the city, town or country, for example, could also mean adding a button for customers to connect straight away with local experts.
Digitizing the tourist information center isn't about replacing the walk-in service, but about making this crucial service available to a more digital-savvy audience; both delighting travelers and keeping them in the know.
By plugging WhatsApp Business into your tourist information operations, more active, convenient, and enjoyable tourist engagement can occur. And with more tourists reached digitally, more opportunities arise for promoting the amazing people, attractions and experiences that cities, towns and villages have to offer.
Next Steps
You may want to continue here: