Successful automakers, autodealers and more are investing in WhatsApp to turn drivers into fans. Here's how.
As the number one chat app worldwide, over 1.5 billion people use WhatsApp. Consumers are increasingly expecting to engage with brands quickly and at their convenience, and so the WhatsApp Business solution offers companies the opportunity to meet customers where they are, and stay relevant in ever more competitive industries.
For the automotive world – with the focus on providing customers with both an enjoyable experience as well as simplicity – WhatsApp Business optimizes customer service and powers better conversations with new and loyal customers alike. Where email lacks speed and phone calls lack multimedia capability, WhatsApp is the go-to platform for quick, personal, modern messaging. With its built-in encryption, it's a secure and GDPR-compliant way of connecting closely with customers, whilst also building trust.
Integrating WhatsApp Business is a different process than those automotive companies might be used to. The company is cautiously rolling out the solution through a handful of selective providers, such as tyntec, in order to preserve the elements of WhatsApp that those 1.5 billion people love, such as privacy, a 'no-ads' feel, and free, simple messaging.
Still, the WhatsApp Business solution provides the automotive industry with many opportunities for innovation in customer service and operations. Customers buy a lot more than a car; they are looking for convenience and fun at all stages of the buying and ownership process. And so there are three key areas where WhatsApp Business can be a game-changer – enabling fan engagement, enhancing purchase experience, and driving loyalty through convenience.
Creating Memorable Buying Experiences
Where the customer is looking to be delighted and guided when buying a car, companies are looking for efficiency and conversion. With many stages making up the purchasing journey – from expressing interest and test drives, to personalizing models and the wait between order and delivery – having a convenient, direct line of communication can remove friction and keep the excitement of the experience fresh for the customer throughout.
Customers might, for instance, message the customer service team to arrange a test drive through WhatsApp, making that booking at speed. After the test drive, the customer might be offered a car concierge to help configure their model, and maybe sent a 'sneak-peek' video as their car is personalized. Practical messages such as further information sign-posting, order statuses and pick-up times make the experience not only fun for the consumer, but convenient and efficient for both the buyer and the seller.
Driving Loyalty Through Convenience
Buying a car is one thing; maintaining it is another. And the WhatsApp Business solution offers many opportunities for building loyal relationships with customers by making servicing as simple and convenient as possible.
For example, customers might receive inspection alerts through WhatsApp, the available slots and locations to book their cars in, and appointment reminders. Or maybe the customer can reach out when something is not quite right, to quickly get their cars into the workshop. They could then be sent updates as to what needs to be done, the costs, and the schedule of repair, all in one chat, driving a sense of personal relationship between owners and service providers.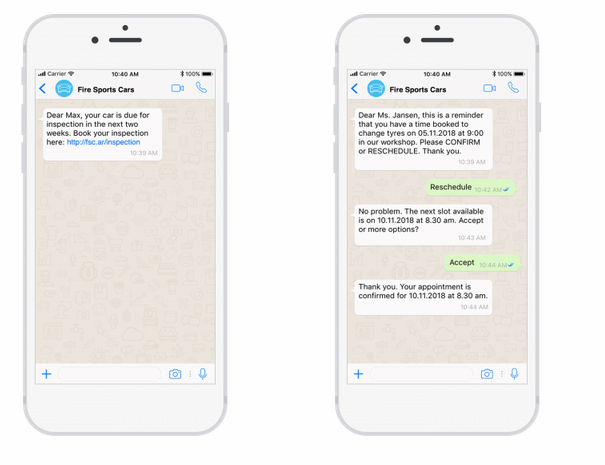 Enhancing Car Fandom
It's no secret that cars draw fandoms. And for any fandom, access to inside information, exclusive content and those 'in the know' is a tantalizing offer. WhatsApp Business group messaging, offered through tyntec, allows automotive companies to build and grow these relationships. Fans could join a WhatsApp group to follow the latest model releases, and hear more about how their favorite cars go from design to driveway. Perhaps a fan might join a group focused on the associated F1 racing team, to follow season updates, behind-the-scenes content, and exclusive updates from the manufacturer.
Group messaging creates a feeling of closeness, accessibility and exclusivity, which not only taps into the desires of keen fans, but helps fulfill them. Creative content and insider access is not a new marketing strategy, but this element of the WhatsApp Business solution allows brands to deliver that content to the customers who appreciate it the most.
Cars are an integral part of many people's lives, as both a source of convenience and enjoyment. The automotive industry can mirror this in their customer communications. WhatsApp is where customers already are, so sending information and messages through a familiar platform not only gets companies in front of customers more readily, it positions brands as an easily accessible guide, providing personal service to every person.
By plugging WhatsApp Business into your customer service operations, better customer conversations can arise. And with the added efficiency instant messaging brings, businesses can keep growing off the back of more seamless customer service.
How to Turn Drivers Into Fans with tyntec
The automotive industry moves fast – and you can move even faster with WhatsApp Business with tyntec. We're ready to establish your presence on the largest chat app globally to interact with your customers.
Next Steps
You may want to continue here: