WhatsApp Business has helped thousands of companies reduce friction in their customer interactions. Either by replacing or augmenting existing communication channels like email and phone calls, the leading global chat app is taking customer experience to the next level. As Peter Parker (cue nerd alert!) once said, "With great power comes great responsibility." Thus, WhatsApp is constantly upgrading the channel and making important improvements to further reduce friction in the customer journey.
User Centricity: Sending Media Messages that Customers Expect
On WhatsApp, users have always had the power to drive conversations with their favorite brands. In line with this, until recently, the chat app had only allowed companies to send Media Message Templates to their customers when customers started conversations or replied to companies' initial WhatsApp pre-approved messages. That is, companies were allowed to create text-based message templates and were only able to send additional media files once the "support window" became active.
While this approach helped WhatsApp Business protect its users from abuse and spam when the channel launched, now WhatsApp has moved to allow companies to send images and documents (such as PDFs) to their customers even if they haven't replied to or initiated conversations. That means that companies can now start conversations with Media Message Templates.
This is a huge step forward in reducing friction, because even if users haven't explicitly requested certain information, such as boarding passes or updated shipment statuses, they expect to receive the information they need without having to request it. It's about anticipating needs and being proactive, which is exactly what WhatsApp's new function can do for businesses.
How to Use Media Message Templates
The new Media Message Template feature extends the breadth of opportunities that businesses can leverage to anticipate customer needs. For example, banks can send account statements or invoices as PDF files via WhatsApp to their customers' smartphones, in line with GDPR requirements and security standards.  Likewise, travel companies and airlines can use the format to send boarding passes and travel vouchers without having to wait for customers to reply.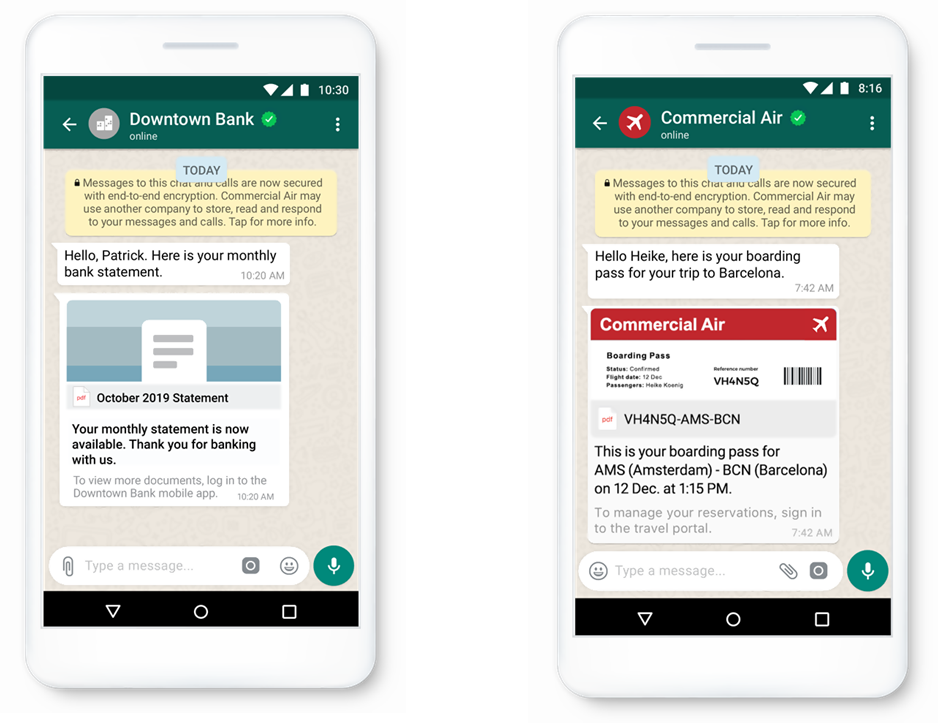 e-Commerce and retail companies can add images to descriptions of purchased products and provide receipts, order confirmations and shipping updates. When a customer asks how to return a package, the agent/chatbot can send shipping labels without needing to wait for the customer's request. It's implied that a customer might need that information.
As for telco companies, they can leverage this service by attaching account statements, service summaries, balance updates and more as PDFs.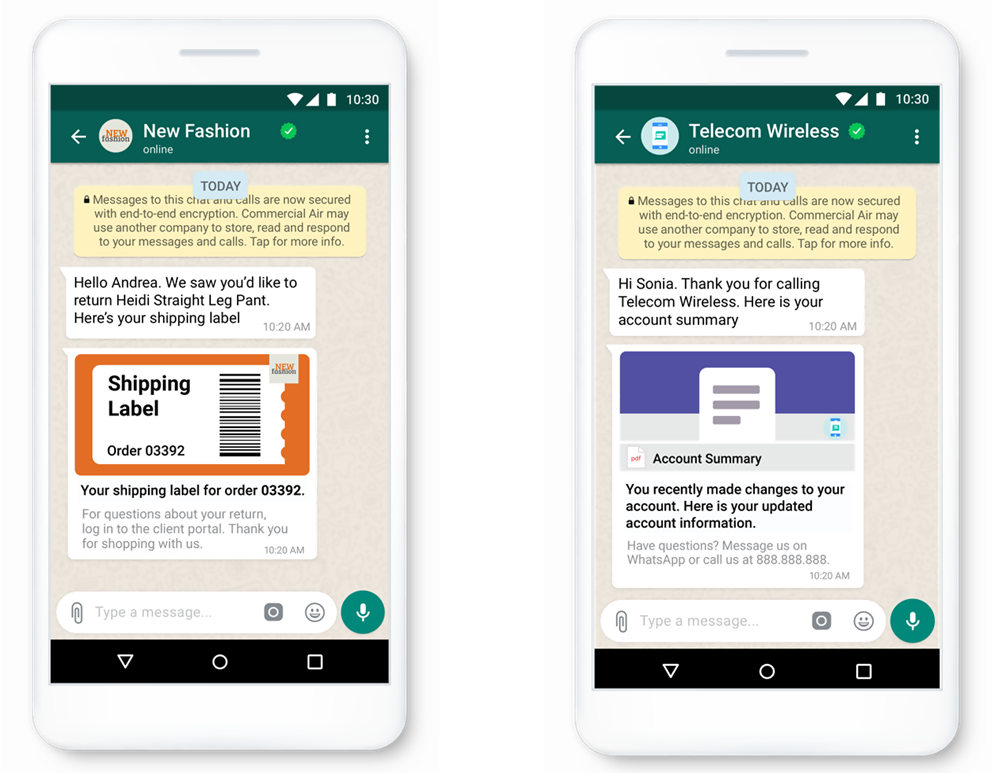 This new approach not only helps companies anticipate customer needs in a non-intrusive way, but it also helps them reduce paperwork and mailing costs, as well as increase CX speed.
Case Study: Tarjeta Plan Platino
One of tyntec's customers that has used this feature in the beta phase is Tarjeta Plan Platino, a financial firm based in Argentina. The company wanted to both send monthly account statements (as PDFs) to its customers and open a new communication channel to manage customer inquiries faster and easier. Since the introduction of the Media Message Templates, Tarjeta Plan Platino has been able to reduce paper statements significantly, with 20 percent of its customer base already served by WhatsApp.
Leveraging Media Message Templates via tyntec's API for WhatsApp Business
If you already have a WhatsApp Business Account via tyntec, integrating this update into the API is easy. Check our Technical Documentation for more information. There's no additional cost for setting up this feature with tyntec. Message fees also remain the same.
For companies that don't yet have a WhatsApp Business Account or were just waiting for this new feature, this is a great time to get started. As WhatsApp continues to enhance its Business API in the near future with other media file types, you can prepare your company by familiarizing yourself with this new channel and discovering all that WhatsApp has to offer. To get started, simply create your account with tyntec.