From a banned practice to a surprise reemergence, here's why WhatsApp newsletters are now legitimate – and how brands can use them correctly so they always stay on the right side of the platform's new broadcasting rules.
To say sending newsletters on WhatsApp has been a controversial practice in the past is something of an understatement. While never officially 'welcome' on the platform, WhatsApp cracked down on the practice in 2019 with threats of legal action for anyone caught trying to use the unsanctioned functionality.
However, fast forward to the present day and WhatsApp-delivered newsletters are back but now 100% legitimate thanks to the platform's new non-transactional messaging format (see below). And for those who use them responsibly, newsletters are a great way to deepen customer relationships at speed and at scale via regular, personalized messaging.
But why has the broadcasting and sending of newsletters on the world's number one social channel been quite so contentious in the past?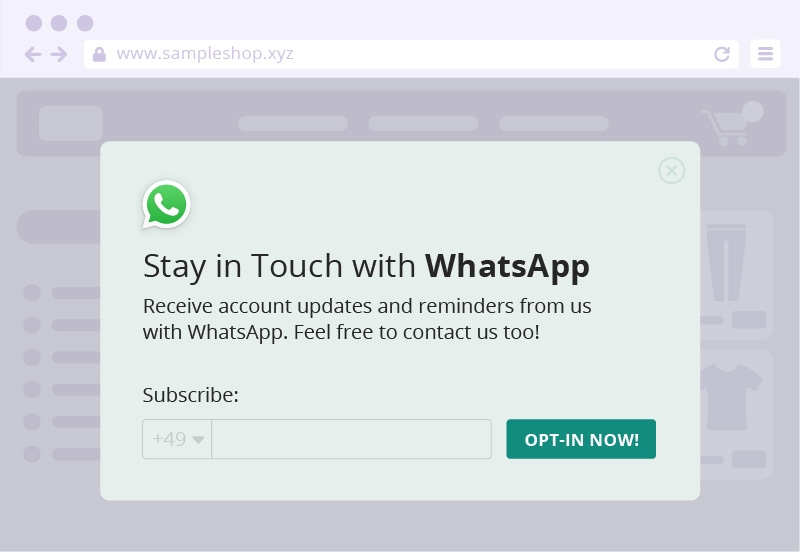 Newsletters via WhatsApp: Great functionality, complicated backstory
Here's a timeline of WhatsApp's often fraught relationship with newsletters — and bulk messaging itself:
Before December 2019
While officially not allowed, many companies still broadcasted newsletters and other forms of bulk messaging via the platform, flooding consumers with unwanted spam.
Two million business accounts were banned a month by WhatsApp because of the practice, with 75% of business accounts closed due to users flagging what they felt was spammy content.
Such high figures were putting WhatsApp's hard-won reputation as the go-to platform for conversational commerce at risk.
December 7, 2019
WhatsApp decided it needed to take stronger action to ensure that its brand was protected.
 WhatsApp stated that from December 7, it would "take legal action against those we determine are engaged in or assisting others in abuse that violates our Terms of Service, such as automated or bulk messaging, or non-personal use."
And that was it: Broadcasting — and newsletters — were torpedoed.
October 2020
There was a flicker of hope with the introduction of non-transactional messaging — but, save for some trials, broadcasting remained off limits.
Changing tack: Newsletters and push marketing are now officially good to go
Cut to November 2021 though, and WhatsApp announces broadcasting (and newsletters) are back — and for the first time, officially. The reason? WhatsApp has spent the last two years creating a non-transactional messaging format that keeps bad actors under control while opening up the potential of broadcasting to legit brands.
It's a smart move by the social channel. After all, as a key player in the conversational commerce space, WhatsApp knows, understands, and respects that newsletters are an essential tool for genuine brands wishing to deliver updates of real value to their customers.
However, to ensure sending newsletters doesn't reignite the spam issue, WhatsApp's non-transactional messaging introduces several new rules and processes to protect users while giving marketers the freedom they need to leverage the format fully.
Here's how broadcasting works using the new format:
Brands need to create a template message for any non-transactional messaging, and messaging must be submitted to WhatsApp for review and approval (see below) before being dispatched.
The new rules state brands can send out newsletters via non-transactional messaging so long as the newsletter content is relevant, personalized, and timely, i.e., sending one six months after the customer last interacted with the brand is a no-no.
Customers opting-in to receive non-transactional messaging (including newsletters) is mandatory, and there is an important reason why: Not only does it ensure the customer never feels spammed by unrequested messages turning up in their inbox, the opting-in process itself means that brands are automatically compliant with tough regulations including GDPR.
Newsletters via WhatsApp: Why they represent a win for marketers and customers
With all this talk of banning and needing approval, it's perhaps understandable if brands miss why non-transactional messaging is so important in the first place. If the content is properly targeted, savvy marketers know that WhatsApp enjoys exceptional open rates of 99% compared to email's rather underwhelming 56%.
Importantly, customers themselves enjoy a raft of benefits too. Timely, relevant news-based updates about the latest products, services, and offers can be delivered at speed via a social channel they already use and love. Critically, because the social channel can be integrated with existing CRM systems, customers also receive personalized content based on their existing shopping preferences, removing the risk of the newsletter being flagged as spam.
How broadcasting newsletters via WhatsApp works
Here's a breakdown of the broadcasting process – and how the newsletter format is ideal for supporting conversational commerce as well as enhancing customer experiences.
A fashion brand offers the customer a personalized newsletter once a month — so long as the consumer is happy to opt-in.
The opt-ins can be sourced either in-app during a chat with a live agent/bot, on completion of a purchase, or via a CTA on the brands's website, for instance.
The customer opts-in to receiving newsletters, and the brand creates an offer to be featured in the newsletter based on the consumer's existing details stored in the CRM.
The newsletter is delivered right into the customer's WhatsApp inbox and with a couple of presses, they can view the newsletter's promoted offer.
In this instance, it's for a pair of designer sneakers. The customer clicks on the offer and is connected with a live agent, and asks about available sizes and colors.
The live agent answers the customer's questions and shares a selection of images featuring the sneakers in various colors.
The customer orders the sneaker in the color of their choice, and provides payment and delivery information.
Details of the customer's interactions and order are fed back into the CRM to ensure the brand is always working with the customer's latest preferences and purchasing history.
The next newsletter promotes a new range of casual-wear sneakers —but with the customer's preferred size and colors now automatically featured in the content.
Partner with an official provider to make WhatsApp broadcasting risk-free
While the new broadcasting functionality offers great ways to connect with customers, some brands may be hesitant about deploying newsletters: If they make a mistake, do they risk being banned?
It's why official WhatsApp Business API providers like tyntec are in such high demand. Their expert guidance helps brands to successfully navigate through the newsletter production and delivery processes so all rules are adhered to. It means everyone — from the brand and its customers through to WhatsApp itself — can finally benefit from legitimate broadcasting now and, fingers crossed, long into the future.