How WhatsApp helps Consumer packaged goods (CPG)  brands to stand out in increasingly saturated markets.
Brands are learning the value of listening to the fans that love their products the most. The way people buy consumer packaged goods (CPG) is changing. Rising costs, slow growth and technology-enabled shoppers are challenging conventional ways of operating in the sector and creating a tough environment for both new players and old faces.
WhatsApp is helping more and more CPG businesses stand out in a crowded market. With a direct line to over 1 billion active users, the platform offers the most convenient and direct way for the world's most loved brands to connect with customers. Here's why the fast-moving world of consumer goods is leading the conversation.
Personalized Shopping Experience
Personalization means understanding who customers are and being able to demonstrate what makes their needs unique. While 70% of US and UK consumers expect personalized experiences with the brands they interact with, 74% say they get frustrated if the content they are served is irrelevant to their interests.
It's important for CPG brands to identify how they can leverage data and tailor each shopper's experience. For example, WhatsApp can be used to provide a concierge experience for VIP customers direct to their phones. Messages can be used to deliver a custom carousel of product recommendations based on the customer's unique interests. You can also link offline shopping and online, further personalizing experiences, no matter where the customer buys from you.
Making Paid Ads Personal
In a time where there are more potential sales channels than ever before, consumers are becoming hardened to conventional advertising and one-size-fits-all messaging is falling on deaf ears. Instead, people are paying more attention to messages tailored specifically to them.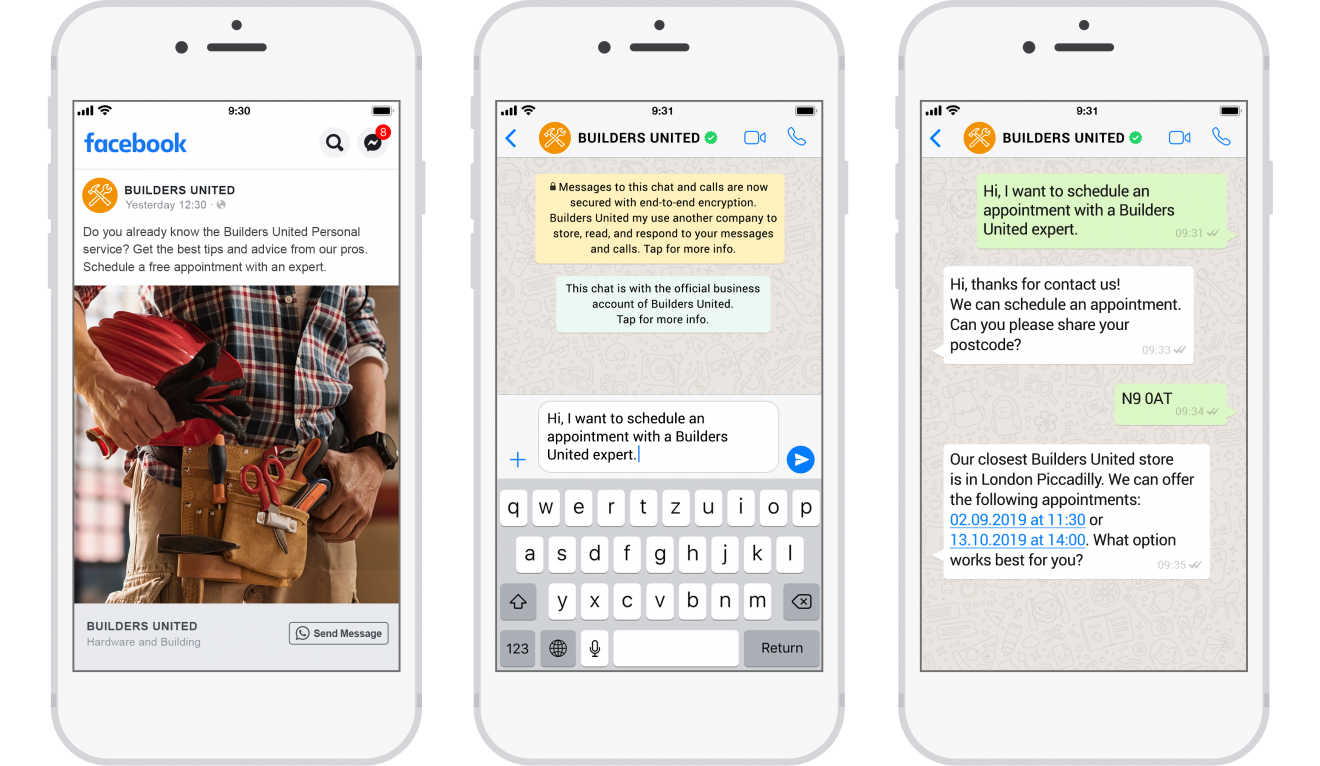 How do personalized ads work?
One clever solution by the Facebook family is to connect Facebook and Instagram Ads with WhatsApp through a functionality called Click-to-Chat. Instead of a generic web page or call-to-action, companies offer a personalized experience and guidance throughout the purchase process. Customers benefit from a conversational transaction where they can find out right away whether the product fulfills their wants and needs.Connecting brand messaging across both Facebook and WhatsApp is a great way to unify brand awareness across sales channels, to increase the ROI of digital advertising spend and, most importantly, to interact with customers where they're actually paying attention.
Growing Customer Engagement
Advertising is essential for companies that wish to increase their customer base, but sustained growth requires more than one-off sales. When combined with clever ways to enable product discovery through tips, tutorials and the good old product specs, companies can link product information with WhatsApp call-to-actions throughout their website, further enhancing the discovery process.
WhatsApp is a user-centric channel, where the customer drives the conversation. There's no use in spamming customers with product information just because the company has seen some website activity. Rather, companies can add easy, non-intrusive WhatsApp buttons for key content, and let customers get this information at their own pace.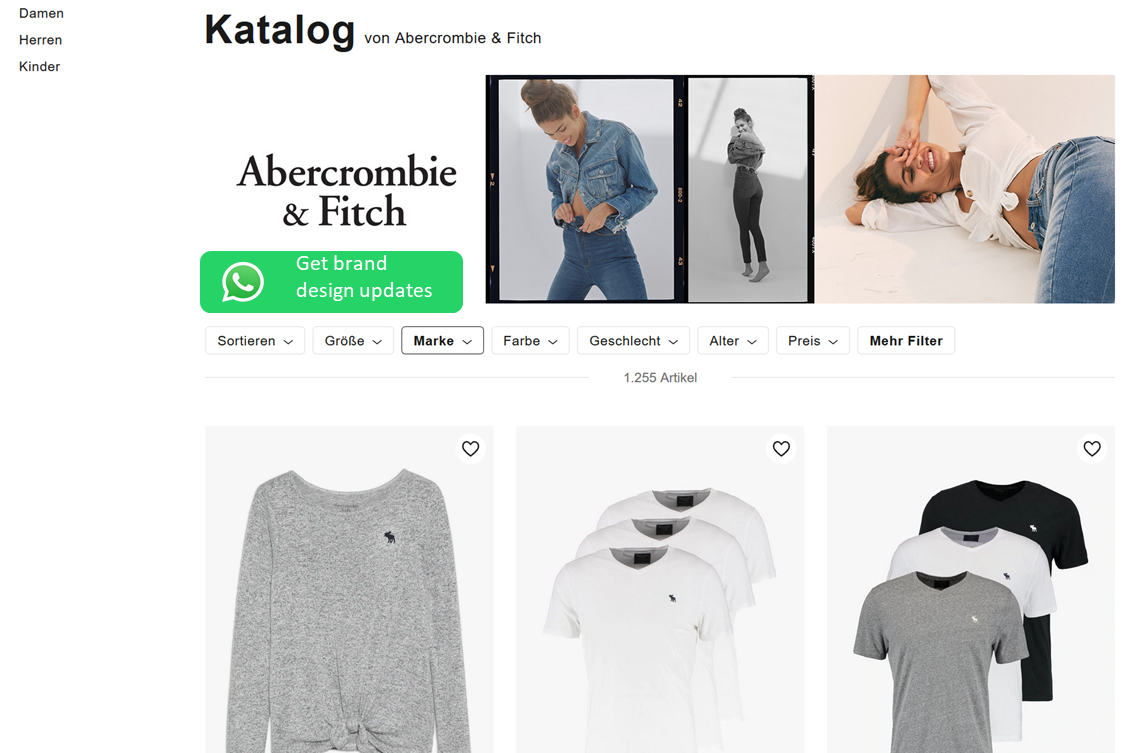 In the past, this meant listening carefully to demand and responding to customer needs. Now, communication is a two-way process: 53% of consumers are more likely to shop with a business they can contact through an app. This is particularly true of younger shoppers, with 60% of millennials saying they want to communicate with brands via direct messaging.
With the power of AI and chatbots, consumer goods companies can automate interactions that establish a lasting relationship. For instance, take the Fit Foodie Buddy by Indian brand Saffola, a personal chefbot that takes stock of the available ingredients in the customer's pantry and, according to the time of the day, suggests recipes that can be sent to their mobiles through platforms such as WhatsApp.
Building a Community of Superfans
Once you've established a more personal relationship with your customers you can connect them together. WhatsApp already hosts over one billion group chats and around 60% of US users believe their phone allows them to connect with communities that share their interests. These groups provide an opportunity for brands to facilitate conversations between fans and create a sense of excitement and belonging.
For example, a soft drinks company could gain insight from its superfans when developing a new product. Rather than working on a new flavor in the dark, the company directly discuss ideas and learn from the community that is most likely to champion it. They can also reward superfans by offering them the first chance to try the drink when it's ready for market.
Improve Customer Service with WhatsApp
Establishing a more conversational approach with customers gives CPG brands a powerful tool for improving the overall services around their products. This can be invaluable for improving retention as 82% of customers will take their business elsewhere after a poor customer experience.
If a customer has an issue or complaint, they don't want it to be inconvenient to resolve it. Or, if they have a suggestion or question, they don't want to get lost wondering how to get in touch. WhatsApp provides them with a direct line on a platform they already love, so you can handle the situation easily without congesting your contact center.
H3: Satisfy customer needs and wants with WhatsApp Business
Businesses in the CPG market are pioneering new ways to get ahead in a crowded marketplace. Sustainable growth in the sector is increasingly dependent on being open and responsive to the needs of customers. With WhatsApp, there's never been a better time to join the conversation.
For further information about using messaging to supercharge customer relations, download tyntec's guide WhatsApp Playbook: Leverage WhatsApp to Future Proof Your CX Strategy.