The world's number one social channel is transforming how brands engage with consumers throughout their journey — here are four reasons why it is able to offer optimized conversational commerce and deliver great customer experiences.
Since its launch in 2009, WhatsApp has helped revolutionize the way we communicate with one another. With over two billion active monthly users in 180 countries sending 100 million messages a day, it continues to outperform all other social channels. This vast reach has recently extended into the commercial space with the arrival of WhatsApp Business for small biz and, most importantly, the enterprise-grade WhatsApp Business API in 2018. Fast forward to 2021, and 175 million people are now messaging a WhatsApp Business account every day!
Such a dramatic uptake means the social app has become a key channel for brands wishing to connect with customers on a platform they already use in their daily lives. That perhaps shouldn't come as a surprise; after all, research shows that 75% of adults want to message with businesses the same way they do with friends and family.
Try it out for yourself risk-free! Get started with WhatsApp Business and 1,500 free test messages.
Why WhatsApp resonates with customers demanding better digital experiences
Research shows customers prefer messaging businesses via WhatsApp to alternative comms solutions because of what the social channel offers:
Deeper connections
64% of WhatsApp users agree that the social channel fosters a personal connection to businesses.
Greater trust
71% feel more confident about a business after messaging on WhatsApp.
Easier

comm

unications
68% say WhatsApp is the easiest method for contacting a company.
How WhatsApp's four key strengths transform customer journeys
The WhatsApp Business API offers four advantages for helping enterprise service the customer from the top of the funnel to the bottom — and beyond:
1. Powering Conversations
While WhatsApp is ideal for practical customer servicing such as delivering notifications and alerts, its real strength lies in its ability to let brands easily engage in two-way interactions in real-time. This is vital in a world where conversational commerce is fast becoming the norm. Consumers now expect to be able to effortlessly connect and chat with live agents to source the products, services, and customer experiences they want.
Also bear in mind that 80% of self-classified 'frequent shoppers' will only shop with brands that personalize their experiences, another expectation that WhatsApp Business is specifically designed to address. For instance, enterprises can personalize message content to each consumer with attributes such as their name, their purchase history, and their location including country and city. Better still, companies can judge how well their personalization strategies are performing as WhatsApp provides reliable data about message delivery and all-important read rates.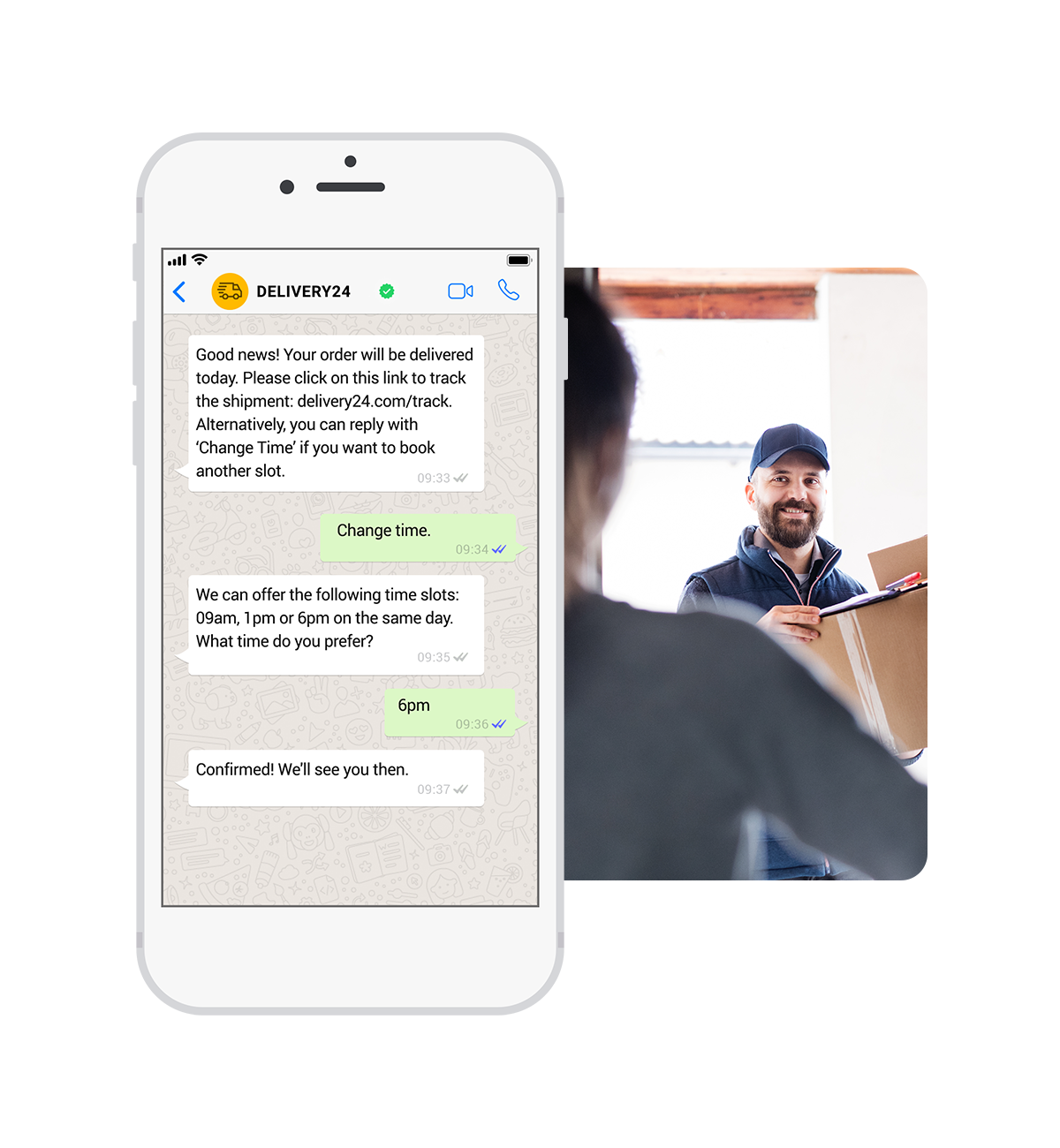 Crucially, such powerful personalization functionality is easy to access. WhatsApp's simplified process enables brands to bypass long numbers or shortcodes and avoid being limited by country-specific telecom regulations. Instead, the company can activate their account with a single dedicated phone number before creating an official fully-branded business profile and adding core information such as email/phone contacts, social media links, store addresses, website URLs, and more.
2. Securing Messaging
Enterprise-level security forms a vital pillar of the WhatsApp Business API. For instance, WhatsApp verifies all business account details before activation. When customers opt-in to WhatsApp-based comms with a brand, they know they're talking with a genuine company, not an imposter. The business also knows the customer is the real deal, thanks to WhatsApp's built-in two-factor authentication.
To give customers additional peace of mind about their privacy and data, WhatsApp features end-to-end encryption on all messaging; even the social platform itself cannot read or decrypt any shared content between a business and a customer. Finally, the official opt-in required from customers to begin conversing with a brand ensures the company's WhatsApp communications are GDPR compliant. This protects the enterprise from falling foul of any regulations that, if breached, could cause significant financial and reputational damage.
3. Transforming Marketing
From Click-to-Chat and Conversation buttons that let consumers immediately start chatting with a brand to deploying broadcast messaging in digital marketing campaigns, WhatsApp offers genuine opportunities for marketers to engage with prospects.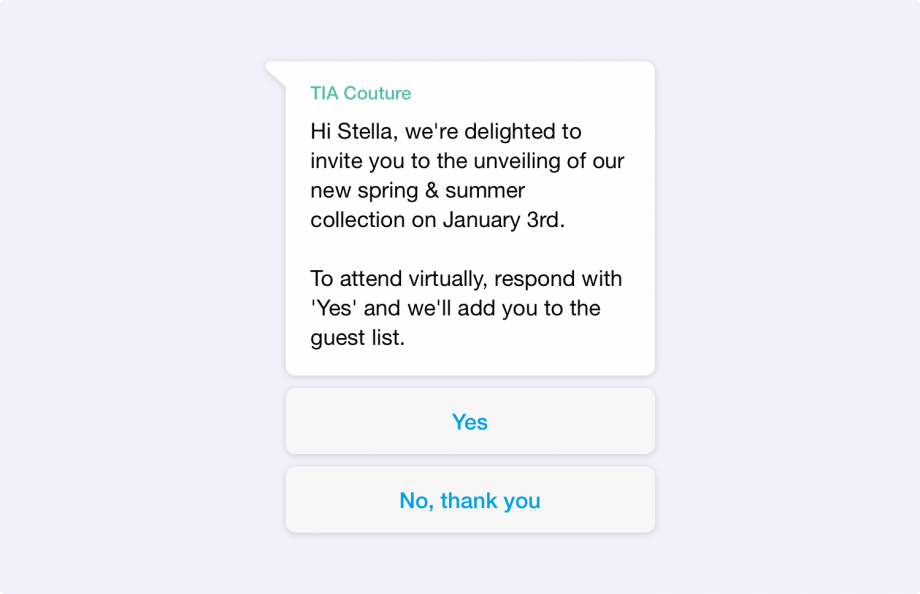 For instance, the recently-introduced non-transactional messaging enables marketing to message opted-in customers outside the official support window (previously, brands could only message customers in response to their specific queries within a 24-hour window). So long as the content is both timely and relevant, non-transactional messages offer a vital, powerful new format to engage, entertain and excite prospects with as well as deepen relationships with existing customers via targeted offers, products, services, and events.
4. Mastering Integration
If unable to fully integrate with existing company systems, even the most cutting edge CX solution risks becoming inefficient, even redundant. It's why many brands choose to team up with an official WhatsApp Business API provider to plan, implement, and rollout their WhatsApp solution. For instance, tyntec offers two flexible integration options for its clients to choose from:
Conversations API
tyntec's API seamlessly integrates the social channel with existing enterprise systems including CRMs and leading commerce platforms. This enables all existing customer data — such as past purchases — to be viewed by a live agent during any interaction, allowing them to deliver a truly personalized service. Importantly, any consumer information gleaned from the conversation is automatically fed back into the CRM so all channels remain in sync.
Conversations Inbox
Alternatively, clients can focus on making the channel's conversations more manageable for larger teams of live agents using tyntec's Conversations Inbox solution. This easy-to-use and intuitive platform enable brands to:
• Answer customer inquiries from any connected channel all from one place
• Interconnect multiple live agents and bots for optimized customer management
• Organize live agents into different groups dependent on selected criteria
• Assign conversations instantly to the relevant specialist
• Create targeted opted-in customer lists in seconds for broadcast messaging
• Deploy auto-replies that are synced to the business hours of an individual channel.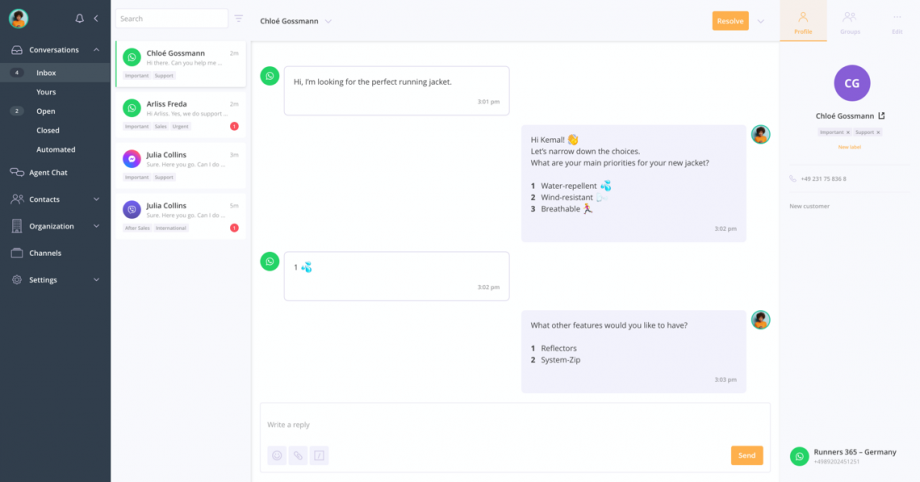 Whichever route a brand chooses to take, bringing onboard an official provider ensures they can focus solely on leveraging WhatsApp's huge potential without the need to spend time, money and resources on implementing and integrating the social channel for themselves.
By leveraging WhatsApp's four key strengths, brands can unlock the social channel's huge potential for engaging with and servicing consumers at every stage of their journey whether it be in the retail/e-commerce, financial services/insurance, travel, or utilities sectors.
WhatsApp Business API: The proven leader in digital CX and marketing
With outstanding penetration rates in every region — from South Africa (96%) and Brazil (91%) to Spain (88%) and Malaysia (92%) — and significant growth rates year-on-year, WhatsApp has now established itself as the go-to conversational commerce platform for both local and global brands.
With its ability to be set up, maintained, and optimized easily, brands can enjoy access to a solution boasting superior functionality over traditional communications, all backed up by a secure, GDPR-compliant infrastructure. Ultimately, it leaves companies to get on with what they already excel at: Forging ever deeper relationships with consumers by offering exceptional customer experiences.