From complex purchasing processes to overstretched customer services, delivering great CX in the B2B market is a tough proposition — learn how WhatsApp Business can help take the strain.
Here's the problem: Gartner research reveals 77% of B2B buyers rated their latest purchase experience as extremely complex or difficult. Things don't get any easier once the purchase is made, either. The buyer's razor-sharp focus quickly switches to return on investment and assessing the quality of the services and support they receive.
For B2B sellers, then, the entire process is highly demanding, and potentially damaging if they fail to live up to buyer expectations. To help manage such challenges, sellers should take a steer from the B2C market's use of WhatsApp Business, and how it can be deployed to enhance CX throughout the B2B customer journey.
Accelerate Sales & Support with WhatsApp Business
Speed of response matters in the B2B market. Landing a new customer is often about responding to a lead's interest quickly and thoroughly before they are snapped up by a more proactive competitor.
How Nifty Window Streamlines the Sales Process
The WhatsApp messaging platform can help reduce lead response times and increase the chances of securing new business. For instance, tyntec client Nifty Window offers time-critical alerts for buyer queries through WhatsApp.
This service aids sellers by flagging and routing leads to relevant agents — with full contact details and interaction histories — in turn reducing the query-to-conversion cycle.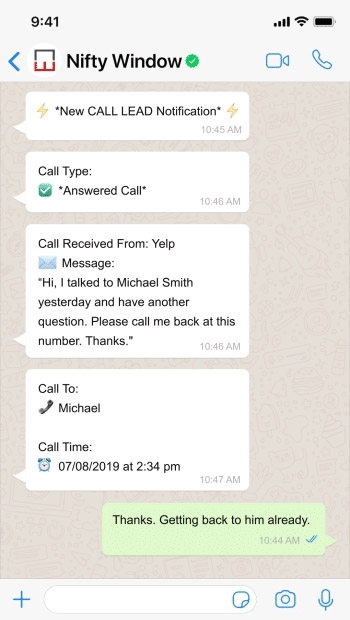 Reduce Purchasing Friction with WhatsApp Business
According to Gartner, the purchasing process typically involves six to 10 stakeholders — the buying group — who must 'deconflict' four to five sources of information. Then 95% say they need to revisit decisions at least once when new information emerges
How WhatsApp shares the right information at the right time
WhatsApp Business can service the demand for information more efficiently than traditional B2B web forms, phone calls, and email (the latter has an unimpressive maximum open rate of 17.92%). Sellers can provide information almost instantaneously via a secure messaging platform that many people already use in their daily lives:
WhatsApp Business offers a suite of multimedia options (images, video, PDF, and more) to help inform buying groups during the research and purchasing phases. It also allows the buying group to quickly and easily ask a B2B seller for more information if required.
This frictionless approach can pay dividends as research shows servicing buying groups more effectively means they are three times more likely to spend on a bigger deal.
Complete Orders in Record Time with WhatsApp Business
Outstanding services are essential for customer retention, but effective delivery of them is often hampered by an over-reliance on traditional comms channels.
How Source.One Removes Inefficiencies from Purchasing Processes
From product and pricing notifications to shipping confirmations, WhatsApp Business is an ideal platform for delivering support and service. For instance, tyntec client Source.One, a polymer supplier to plastic manufacturers, has transformed its procurement processes using WhatsApp Business:
Before WhatsApp implementation, Source.One's manufacturing clients spent half a day ordering the raw materials needed to run their production lines.
After introducing WhatsApp, this buying time reduced from four hours to 90 seconds — that's a 99.4% reduction — by sending buyers personalized order recommendations each morning. These orders can then be adjusted and purchased within WhatsApp immediately.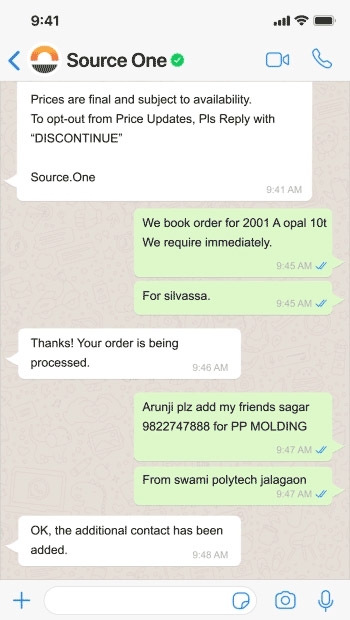 Enhance Customer Service with WhatsApp Business
B2B buyers have high customer service expectations, demanding 24-hour help desk support and access to account managers to ensure all their ongoing needs are met. But for the seller, meeting such demands can be a tall order. It's not always possible to scale, say, business voice solutions to meet increasing demand without investing in additional sales reps and account managers.
How WhatsApp Business Optimizes Customer Services
The WhatsApp platform offers a range of customer services options to protect customer satisfaction and retention rates:
From automated FAQ services (that free up customer agents) to distributing vital updates regarding conferences or on-site visits, relevant information can be delivered quickly and seamlessly.
Alternatively, tyntec's WhatsApp group messaging functionality can service key customer stakeholders within a dedicated group. This can be used to address specific needs quickly, whether it is troubleshooting issues or providing updates on products, services, or events.
Supercharge B2B CX with WhatsApp Business
While phone, email, and web-based solutions remain critical parts of B2B CX, sellers must ensure that customers benefit from a truly omnichannel experience – as they do in the B2C market – one where personalization is put front and center and requested information is distributed effortlessly.
By using WhatsApp Business to drive conversions, efficiency, and satisfaction rates, B2B sellers will benefit from deeper relationships with customers — and, in turn, secure their future within a rapidly evolving digital-first marketplace.