Discover how your business can benefit from the world of conversational AI, where time-saving and cost optimization are driving forces for growth.
From timesaving to cost optimization, more and more businesses are looking to AI and automation to help support their growth. From 24/7 customer service to personalized product recommendations, conversational AI has become one of the most popular solutions for businesses looking to meet customer needs and drive more sales. By 2030, the global conversational AI market is predicted to hit $32.62 billion.
In this post, we explore conversational AI and its benefits for a variety of industries in more detail.
The tech behind conversational AI
Conversational AI mimics human conversation using two core technologies: machine learning and natural language processing. Conversational AI uses natural language processing to analyze human speech and respond in an appropriate way. It uses machine learning to understand the user more and refine its responses. As a result, conversational AI can respond to greetings, answer questions, and provide advice and guidance in ways that feel natural to the user.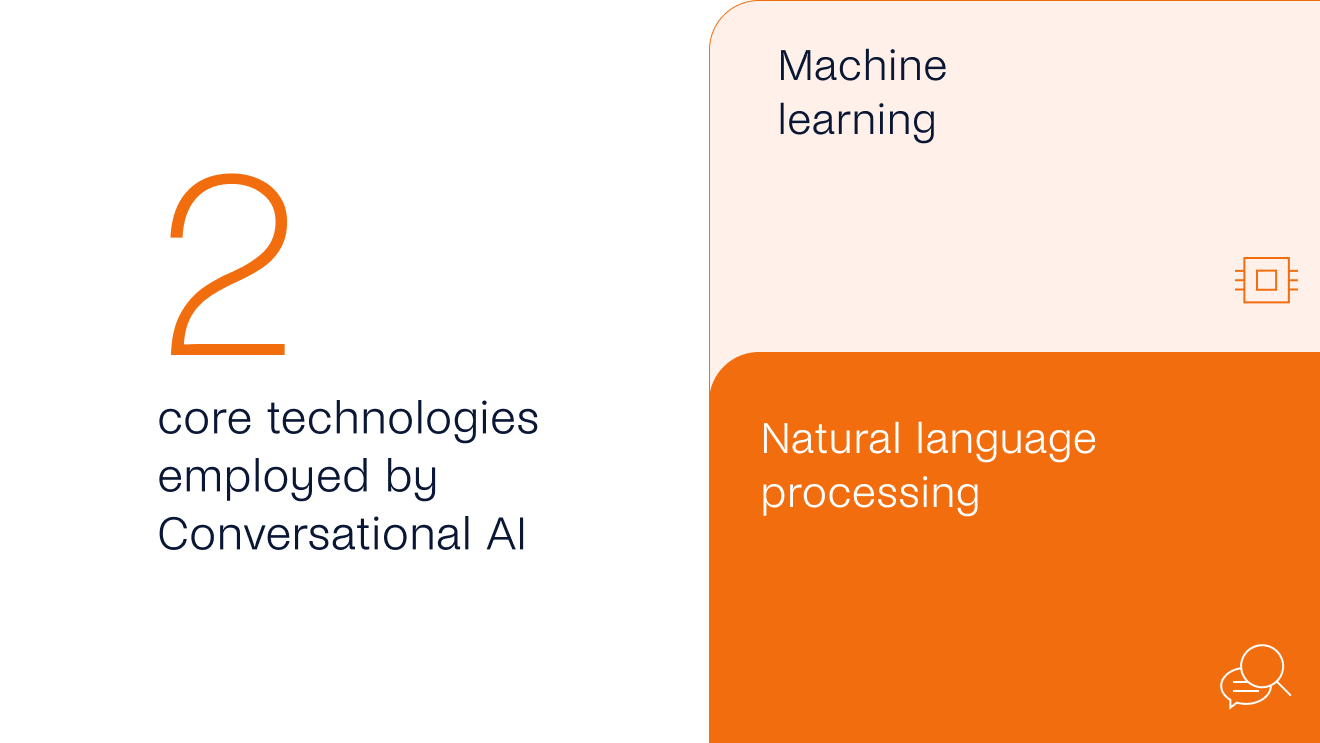 Businesses use a range of conversational AI, including: chatbots, virtual assistants, voice and mobile assistants, and interactive voice assistants (IVA). Because of their cost-effectiveness, ability to provide real-time customer support and capture and nurture leads, and the great user experience they can deliver, AI-powered chatbots are one of the most common solutions businesses use—with many companies featuring them on their website.
Let's take a look at how conversational AI is used across the sectors in more detail.
Customer support
90% of customers expect immediate responses from businesses. That's one reason why conversational AI is becoming more and more popular across the customer support sector.
Since February 2022, 53% of American adults say they've interacted with an AI chatbot for their customer support needs. While your team of human support reps need to take holidays and have set work hours, you can use conversational AI to provide localized, round-the-clock customer support.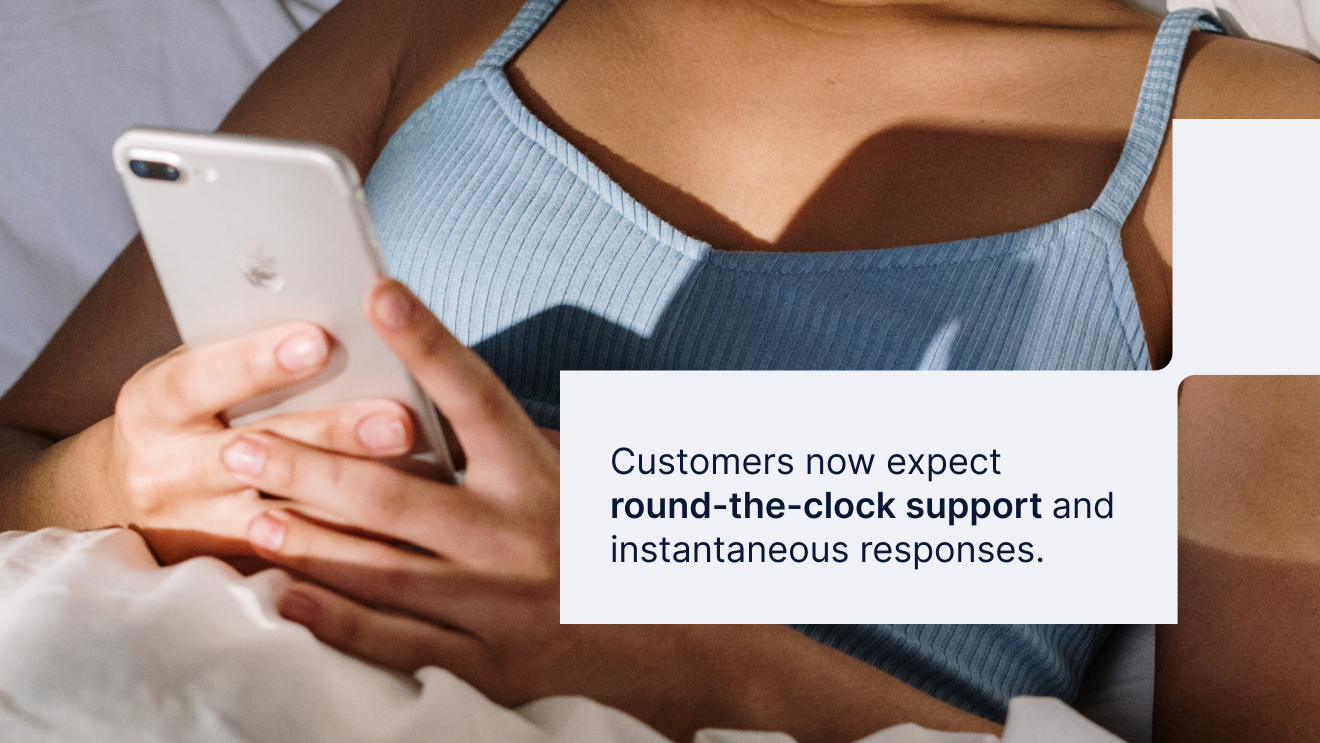 While human support reps are still important for providing emotional support, conversational AI can help you cut back on your expenses. With AI, you can save on the extensive recruiting, onboarding, and training costs it takes to hire and retain a large customer support department. By 2026, experts predict that conversational AI will reduce agent labor costs around the world by $80 billion.
Conversational AI can also help your agents feel happier and more fulfilled at work. 74% of customer service professionals are at risk of burnout. Stressed-out reps can struggle to protect their well-being—leading to lower job performance, less satisfaction at work, and higher turnover rates.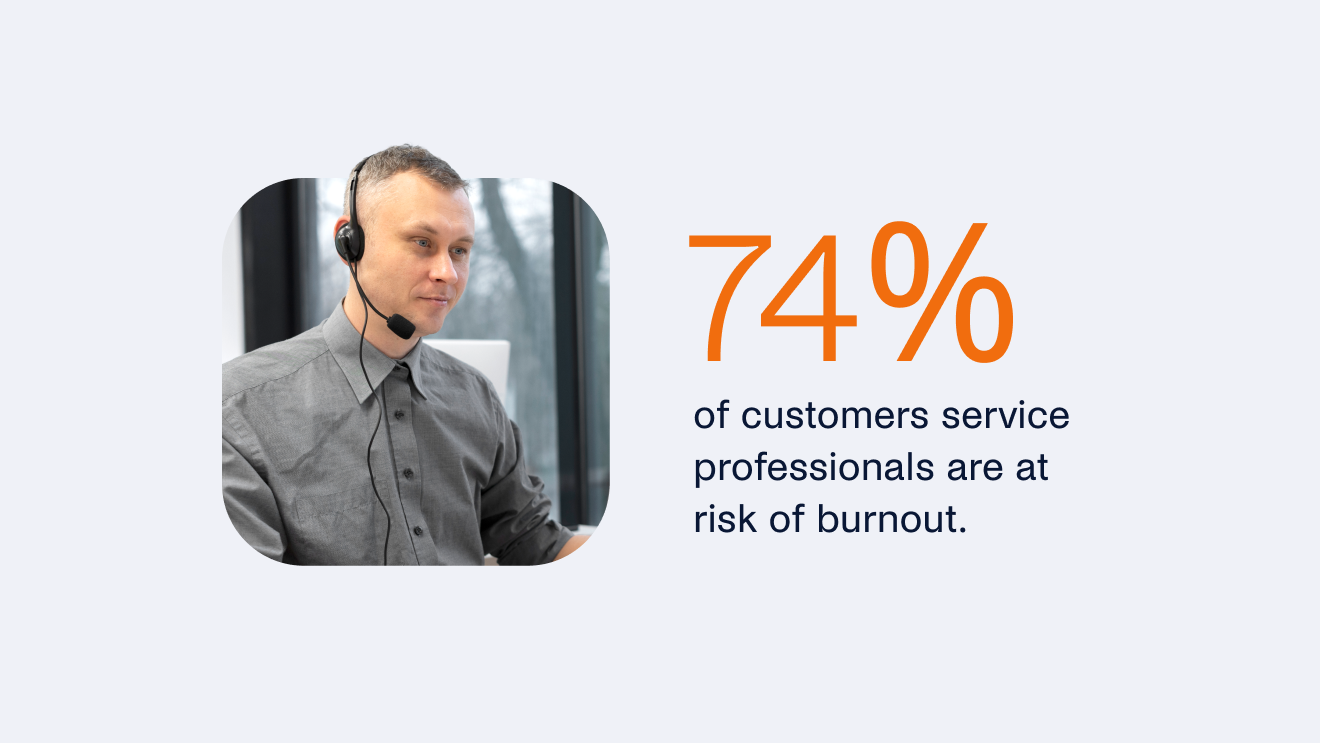 You can use conversational AI to take over repetitive, dull customer service tasks that negatively impact job satisfaction and lead to burnout, freeing up your agents to focus on the more rewarding aspect of their jobs—such as providing more in-depth support and expertise.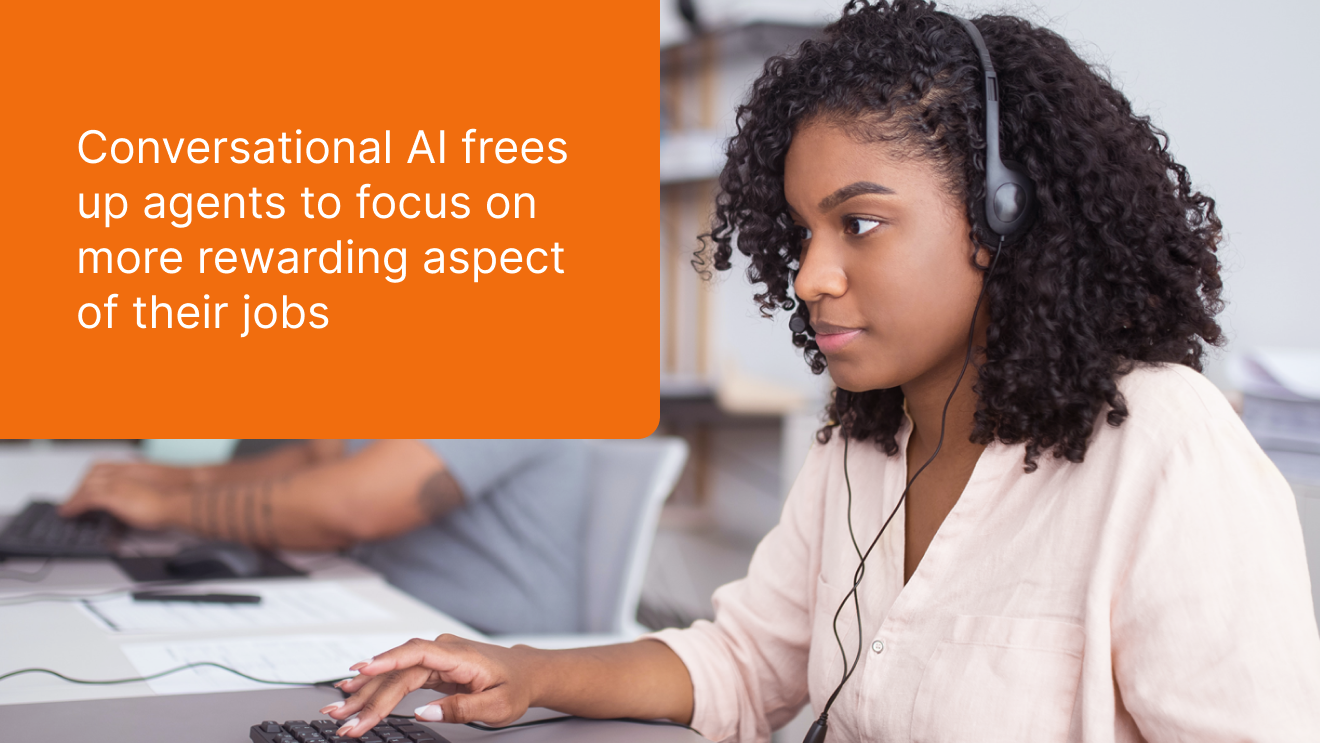 While conversational AI can help you cut back on expenses and alleviate pressure on customer service reps, you can also use AI to balance customers' needs for 'human', one-to-one support alongside the benefits AI can deliver. You can configure your AI to work in tandem with reps—re-routing difficult questions or customers with more intensive customer support needs to available agents.
Logistics
With a complex and multi-faceted supply chain, the logistics industry is one area that can benefit notably from conversational AI. Despite the benefits it can bring, only 26% of logistics companies reported using AI.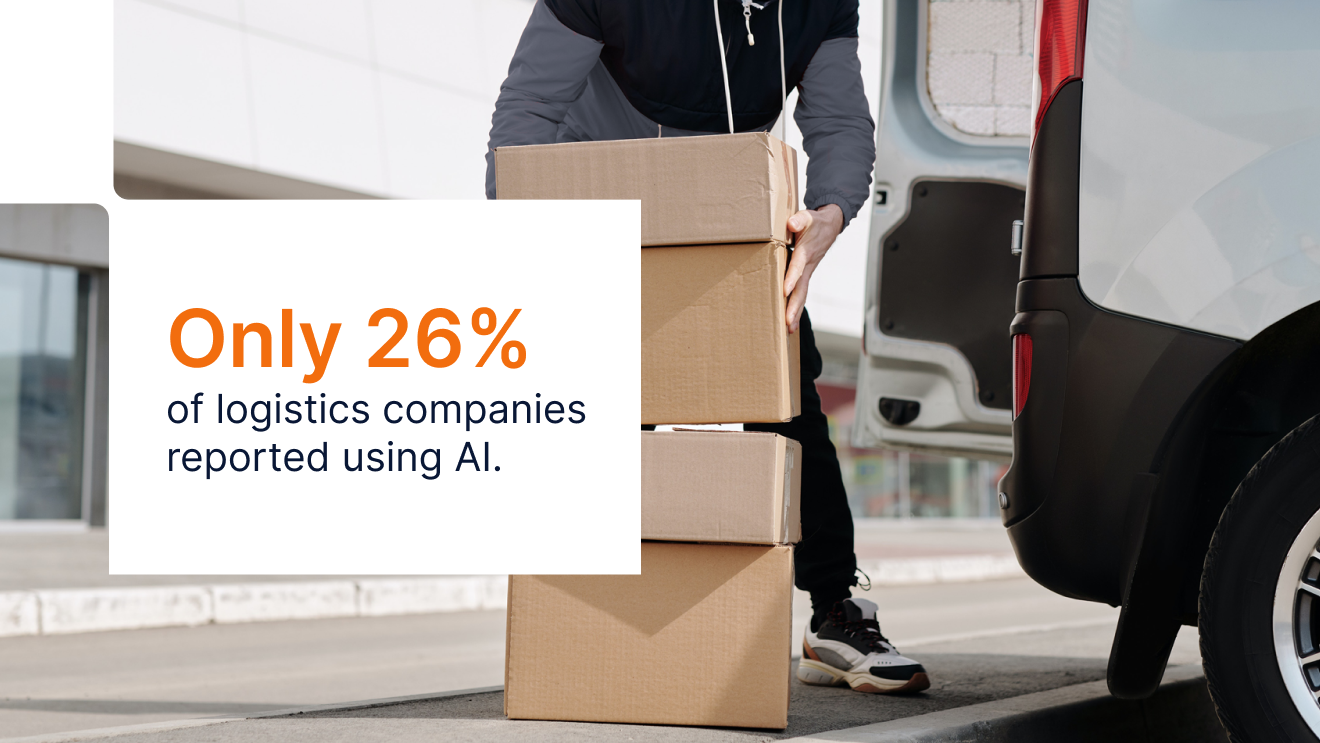 Fast, hassle-free delivery is strongly associated with high customer satisfaction rates. You can use conversational AI to keep customers updated on their order status via SMS, WhatsApp, or voice. You can use the Internet of Things (IoT) to track shipments from warehouse to doorstep and share delivery updates using your conversational AI tool.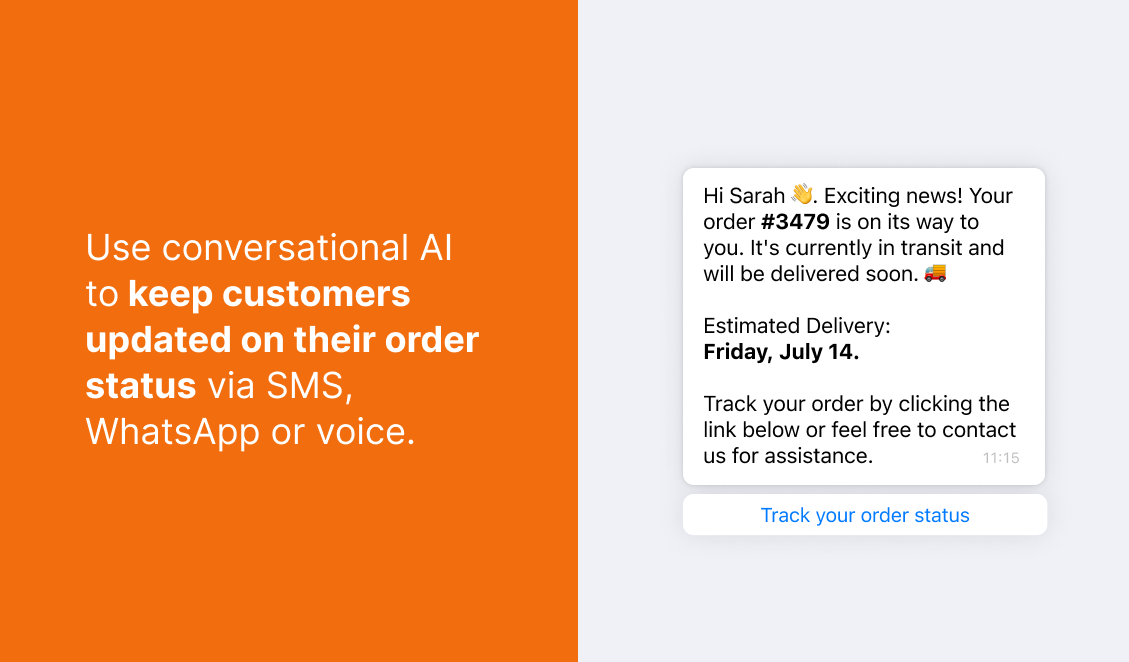 With so many busy departments within a logistics company, suppliers and customers can struggle with long wait times. But conversational AI can help. You can use smart routing to connect customers and suppliers to the right departments with available reps, reducing wait times and upping customer satisfaction rates and supplier retention.
Fashion
89% of people say they find it irritating or off-putting to be approached by a sales rep in-store. Yet 91% of consumers say they'd rather shop with brands that provide personalized recommendations—with 80% claiming that personalization is more likely to lead to a purchase. How do you balance the two?
You can use AI chatbots to provide personalized recommendations that keep customers happy and potentially increase sales. Unlike in-person sales assistants, shoppers don't have to worry about feeling pressured to buy or hurting AI's feelings. They can navigate product recommendations with zero pressure.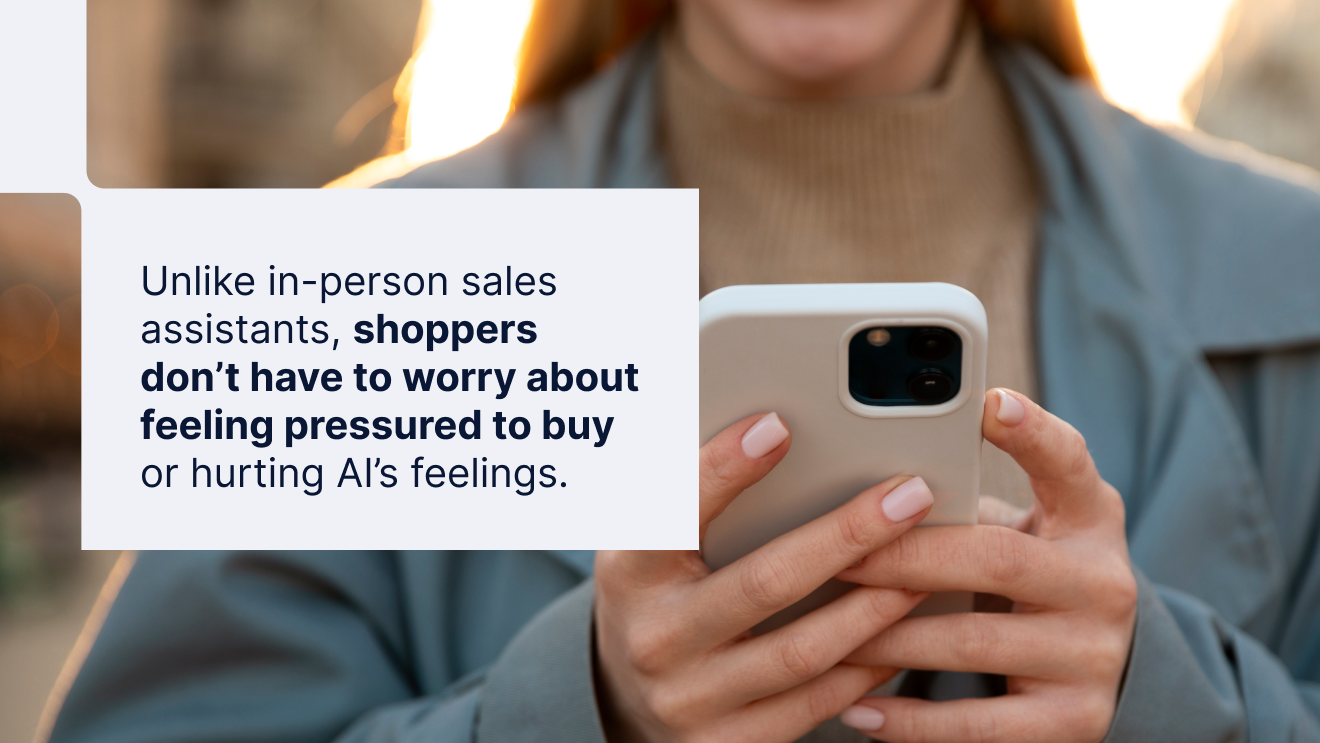 With the ability to draw on relevant customer data like past-purchase behavior and to talk to shoppers to find out more about what they are looking for, conversational AI can act as a digitalized personal shopper for your customers. Use AI to deliver personalized recommendations based on your customer's body shape, social calendar, and individual style.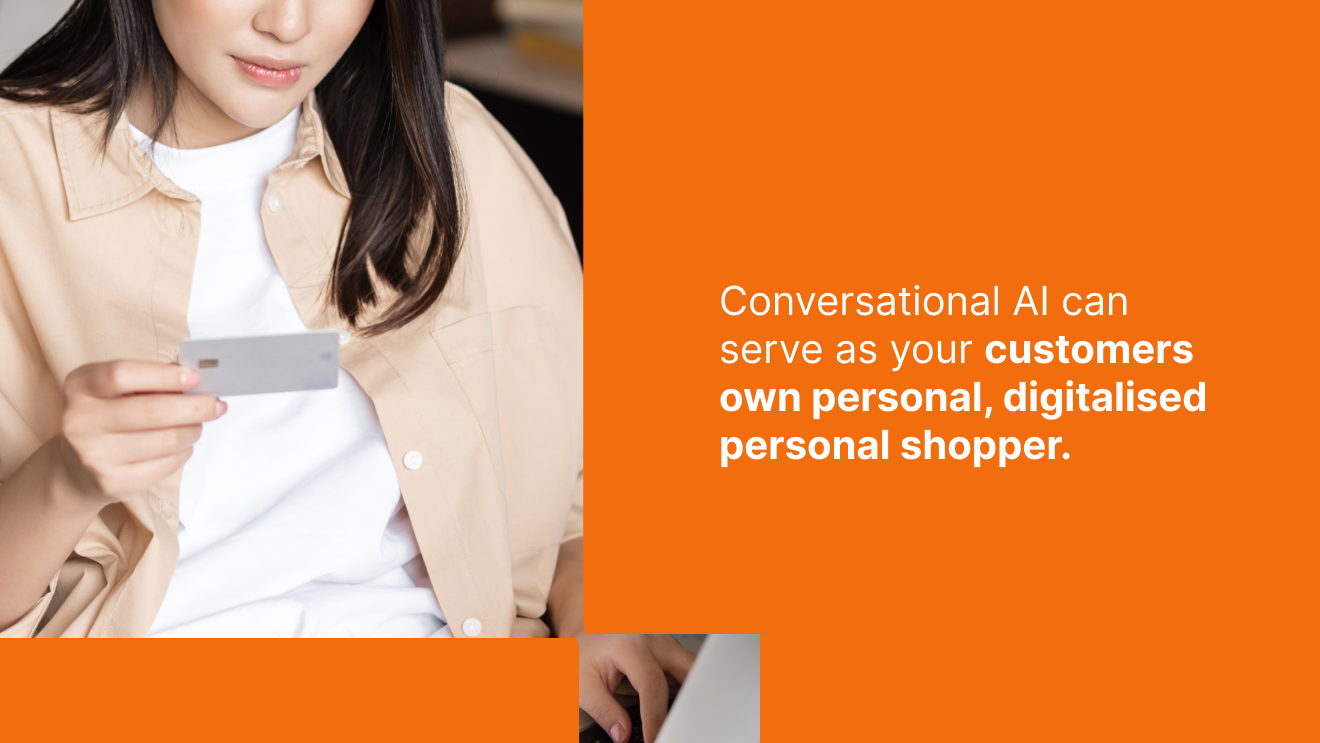 You can also use conversational AI to help support seasonal selling. Just set up your AI to showcase seasonal clothes and accessories that fit the style of your customer's previous purchases.
Retail and e-commerce
E-commerce and retail brands typically have huge customer support needs. Unlike human reps, conversational AI can provide 24/7 customer support. Beyond customer support, you can also use conversational AI to, provide order updates, and answer customer questions.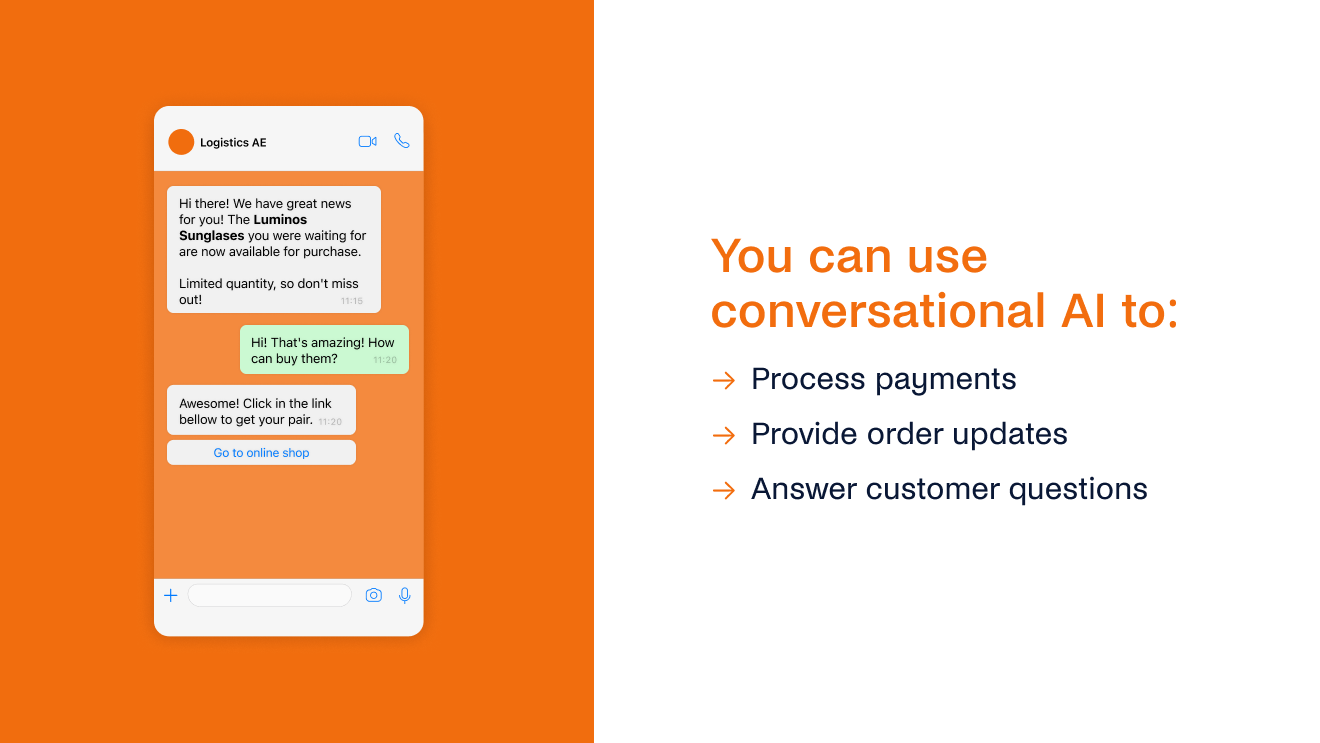 You can also use conversational AI to increase average order values with cross-sells and upsells. By reviewing what's already in your customers' carts or their past purchase history, conversational AI can provide tailored product recommendations that work well with the items they're currently browsing or have already purchased.
Thanks to the boost they give to a customer's perceived value, upsells and cross-sells are a great way to increase average order spend. McKinsey & Company reports that cross-selling can increase sales by 20% and profits by 30%.
Join the conversational commerce revolution today!
From round-the-clock customer support to product recommendations, conversational AI offers a host of benefits to businesses across the sectors. You can use conversational AI to help increase sales in fashion, retail, and e-commerce and keep customers happy with real-time order updates if you're in the logistics industry.
With customers still craving the personalized support they get from customer support reps; you can configure AI to work alongside your reps—meeting customers' needs for both instant responses and personalized one-to-one support.
Ready to get started with conversational AI? Find out how we can help.